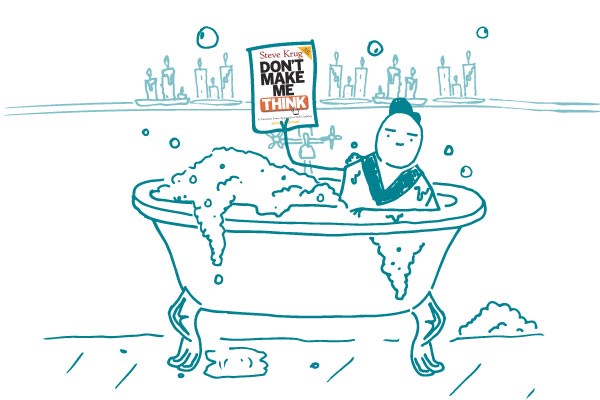 For today's We ❤ Health Literacy Book Club, we dive into a book that's required reading at CommunicateHealth. Now in its third edition, Don't Make Me Think: A Common Sense Approach to Web Usability by Steve Krug is a quick read, but the lessons it contains have true sticking power.
If you're creating or managing a website and you only have time to read 1 book, dear reader, make sure this is it.
The title tells you a lot about Krug's recommendations for creating easy-to-use websites. The book does a great job illustrating the differences between what you probably want to build (a website with great, detailed content and logical information architecture) and what your users will be looking for (obvious clues that quickly and easily lead them to the information they want).
Krug gives us health communicators the harsh truth: People usually scan pages quickly and just muddle through a site until they stumble on what they're looking for. So if we want all of our great content to be findable, we have to pay attention to things like visual hierarchy, simple design, and following web conventions.
The book tells you how to do all this and more — in fewer than 200 easy-to-scan illustrated pages with plenty of white space.
And if you have time to read a second book, a great companion to Don't Make Me Think is Ginny Redish's Letting Go of the Words. Keep these books nearby and refer to them often. Your website users will thank you!
The bottom line: Set your website users up for success and happiness by following the tips in Don't Make Me Think.
Browse recent posts