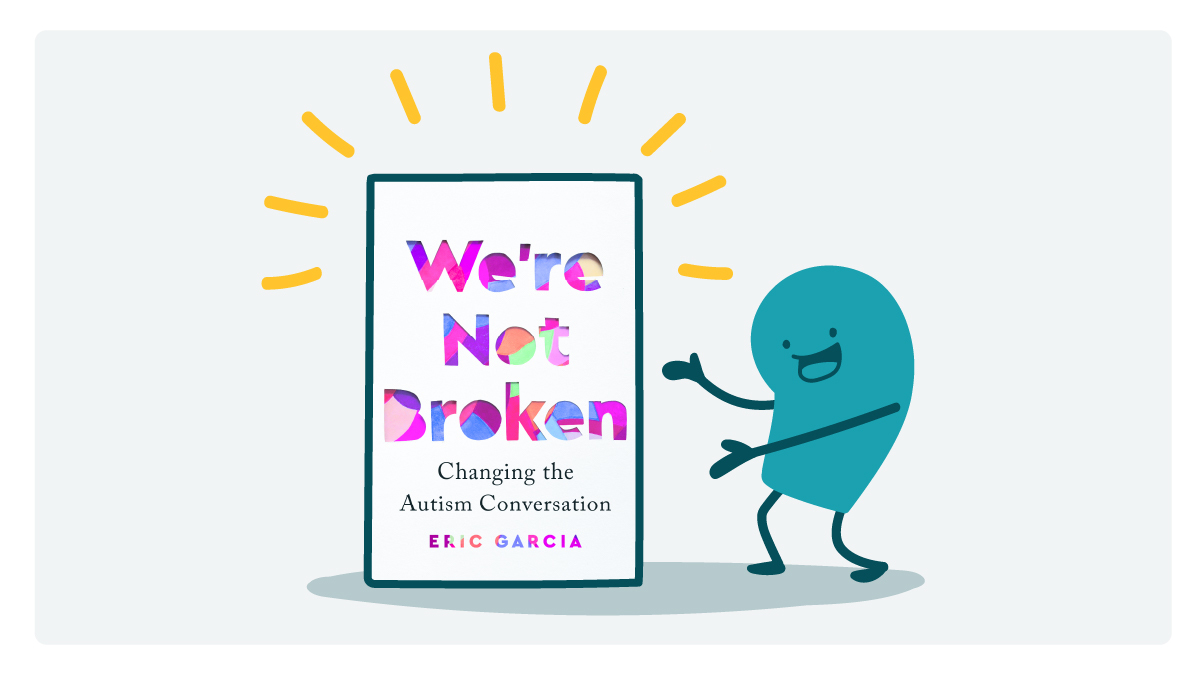 In today's edition of We ❤️ Health Literacy Book Club, we're diving into a must-read book on autism: We're Not Broken: Changing the Autism Conversation. Drawing from his personal experience, autistic political journalist Eric Garcia explores what it's really like to be autistic in America. Garcia makes a bold suggestion: instead of talking about autism as a problem to be solved, let's focus on supporting and accommodating the needs of autistic people.
Garcia explains how the "autism epidemic" narrative of the 1990s and early 2000s often framed autism as a tragic fate or a battle to fight. While our understanding of autism has (thankfully) evolved, that messaging contributed to lasting stigma and misconceptions about the condition. Concerns about rising autism cases also opened the door to harmful pseudoscientific treatments and theories — including the longstanding myth that vaccines cause autism. And the COVID-19 pandemic has made it clear that we have a long way to go to rebuild public trust in vaccines.
Garcia argues that efforts to find causes and cures for autism have done little to improve the everyday lives of autistic people. Yet major research initiatives continue to focus on identifying genetic causes of autism. To autistic people, this can send the message that politicians, researchers, and health care professionals care more about curing autism than addressing the systemic issues that affect their well-being. For example, 85 percent of college-educated autistic adults in the United States are unemployed or underemployed, contributing to housing insecurity among autistic people.
Autistic people also face barriers within the health care system. For example, autistic women, transgender and nonbinary people, and people of color often struggle to get an official diagnosis, which they need to qualify for disability accommodations at school or work. And some autistic people have reported traumatic experiences with applied behavior analysis (ABA) therapy, a treatment that's considered the gold standard in the United States and is often the only service covered by health insurance.
We know, dear readers, that these issues are surrounded by intense debate. But as health communicators, we have an opportunity to build trust with audiences who often feel unheard and alienated by public health messaging. When you're creating materials about autism, keep these tips in mind:
Ask your audience what they need. There's a saying in the autistic community: "nothing about us without us." So when you're communicating about autism, it's especially important to get input from your audience — even if there's not much room in your budget.
Use "autistic person," not "person with autism." People-first is often the go-to approach in public health, but many autistic people prefer identity-first language. Allow us to refer you to the first bullet above — it's always a good idea to check with your audience and use the language they prefer.
Just say "autism." Diagnostic language around autism has evolved a lot over the past few decades. Today, the official diagnosis used in the United States is autism spectrum disorder, or ASD. But keeping with our plain language principles, we generally recommend using "autism" — which people are likely to be familiar with — unless you're specifically talking about someone's diagnosis or the diagnostic testing process.
Skip outdated diagnoses like Asperger's syndrome and PDD-NOS (Pervasive Developmental Disorder-Not Otherwise Specified). These terms were taken out of the Diagnostic and Statistical Manual of Mental Disorders (DSM) back in 2013.
Choose images that represent the diversity of autistic people. Media representation might convince you that all autistic people are white boys who like trains or, later, white men who like computers. In reality, of course, there are autistic people of all races, ages, and gender identities.
Share resources developed by and for autistic people. Community-led organizations like the Autistic Self-Advocacy Network or Autistic Women and Nonbinary Network are a good place to start.
The bottom line: Eric Garcia's We're Not Broken: Changing the Autism Conversation is a must-read for health communicators everywhere.
Tweet about it: .@CommunicateHlth is back with another edition of the We ❤️ #HealthLit Book Club! Find out why @EricMGarcia's We're Not Broken: Changing the Autism Conversation is a must-read for #HealthComm folks: https://bit.ly/3F9eEh0
Browse recent posts