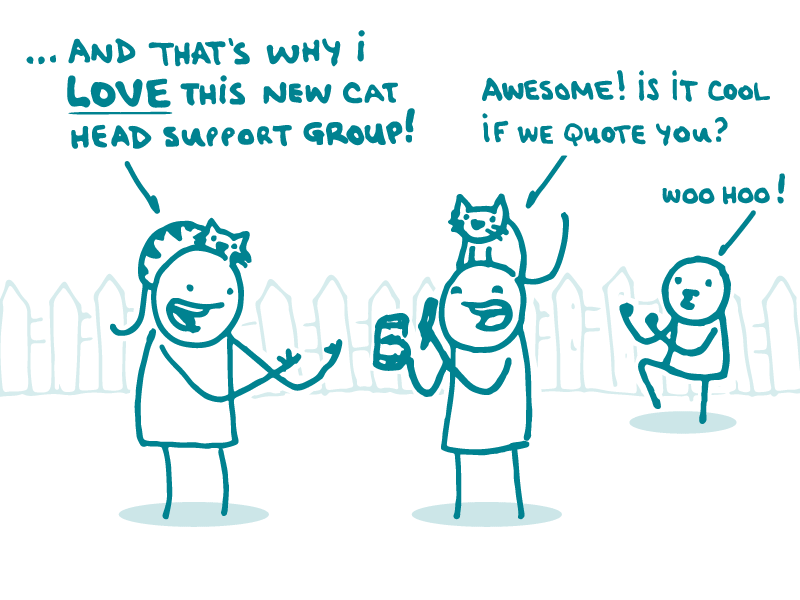 As plain-language-loving health communicators, we're always looking for simple ways to share information clearly and effectively. This week, dear readers, we're talking about a super useful tool for enhancing your plain language health content: including quotes from the target audience.
So why do we ❤ quotes in health content so much?
They can make your content friendlier and more relatable. Quotes from your target audience give content a valuable personal touch that helps readers better understand how information applies to them. Quotes can also inspire trust and confirm that the information you're sharing is reliable.
For example, if you're trying to encourage parents to take steps to keep their kids healthy, including a quote from an actual parent can help personalize the message and add credibility.
Get active with your kids! Try to find activities you enjoy together, like taking a walk or going for a bike ride.
"My daughter and I love to dance together. We spend a few minutes before dinner dancing to our favorite songs — and sometimes the whole family joins in!"
They help reinforce your messaging and inspire action. Quotes are a great way to reach audiences that may be hesitant to take the next step in their health journey. Your readers may be more inspired to change their behavior if they hear real-life success stories from people they can relate to.
For example, if you're trying to encourage people with depression to seek help, it might be easier for a reader to follow advice from someone who's been in their shoes.
If you think you may be depressed, getting help is the most important thing you can do.
"I'm really glad I talked to a counselor. He helped me remember that I'm not alone — and I have a lot of support."
The bottom line: Quotes from real people can help you connect with your audience and emphasize the importance of your messaging.
Tweet about it: Can we quote you on that? @CommunicateHlth talks about the benefits of using quotes in #HealthLit content: https://bit.ly/2OHfdno
Browse recent posts