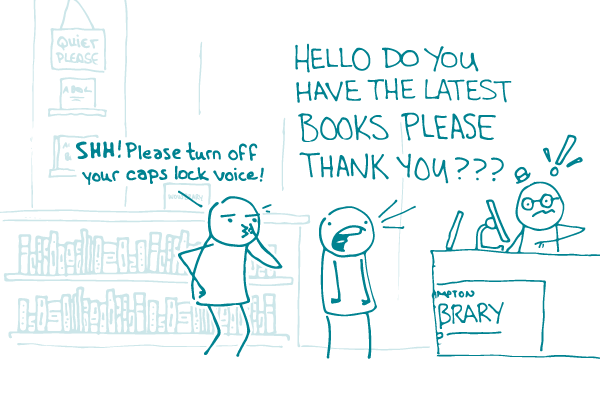 Let's be honest — how many times have you gotten an email written in all caps that has left you with a positive impression? Never, right? Except maybe that email letting you know YOU WON THE LOTTERY!
Fantasies aside, a quick survey of folks at We ❤︎ Health Literacy Headquarters shows that getting an email in all caps leaves the reader feeling that the author:
Is angry and yelling
Doesn't have the vocabulary to get his point across
Must be working on an ancient computer that doesn't have different font styles to indicate emphasis
Accidentally hit the "caps lock" button when she fell asleep on her keyboard
In addition to leaving us with an all-around yucky feeling, the consensus is that using all caps negatively affects readability and legibility. Most people read by scanning the shapes of letters. Using all capital letters removes a lot of that variation — forcing the reader to work harder to understand the text.
Don't believe us? Compare these examples:
If you need a nurse right away, dial 111 on your bedside phone.
IF YOU NEED A NURSE RIGHT AWAY, DIAL 111 ON YOUR BEDSIDE PHONE.
Now ask yourself:
Which one of those would you prefer to read when you're sick, stressed, and confused?
Which version makes it easier to scan and find the emergency number?
The bottom line: Do your readers a favor and unlock your caps.
Browse recent posts