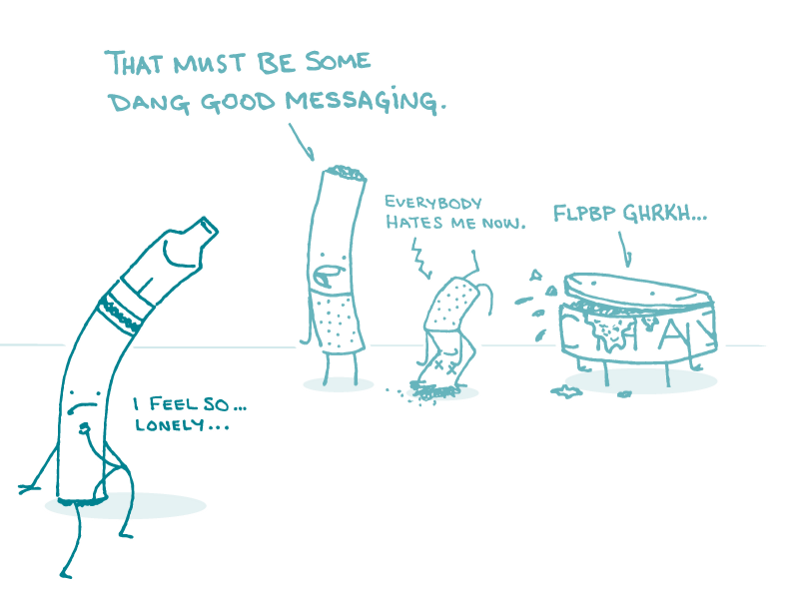 Get this: tobacco use is still the leading cause of preventable disease and death in the United States. Cigarette smoking causes about 1 in 5 deaths each year — and that includes deaths caused by breathing in secondhand smoke.
Tobacco use and quitting smoking can be tricky topics to cover — but it's super important that we do it well, dear readers. Here are a few things to consider when writing plain language content about smoking and tobacco use.
Be compassionate. Quitting smoking is a journey, and that journey is different for everyone. So keep your tone empathetic and avoid sounding condescending or judgmental. Remember, we're talking about an addiction — try to put yourself in the shoes of people who smoke and use that perspective to inspire them to quit.
Use person-first language. Rely on phrases like "people who smoke" or "people who use tobacco." Skip terms like "smokers" or "users," which imply that using tobacco defines who someone is.
Keep it brief. When you're writing for people who are trying to quit smoking, keep in mind that your readers may be dealing with withdrawal symptoms like stress, anxiety, and mood swings. Since mental and physical challenges can affect people's ability to process information (hello, health literacy!), home in on the need-to-know content that will motivate readers to meet their goals — and skip the nice-to-know information for now.
Focus on the benefits. Quitting smoking has many health benefits. Try clearer skin, a healthier heart, slowed-down lung damage, a stronger immune system, and breaking the cycle of addiction. That's just to name a few! Emphasizing the benefits of quitting can be a helpful reminder — and an extra push — for people who want to quit smoking.
Remember friends and family. Friends and family members can play a huge role by encouraging their loved ones to quit smoking — so consider creating some content for them, too. Their support can go a long way in helping people who smoke kick the habit for good.
The bottom line: When it comes to communicating about smoking and tobacco use, meet your readers where they are.
Tweet about it: Check out @CommunicateHlth's #HealthLit tips for communicating about smoking and tobacco use: https://bit.ly/2AEMvyN
Browse recent posts