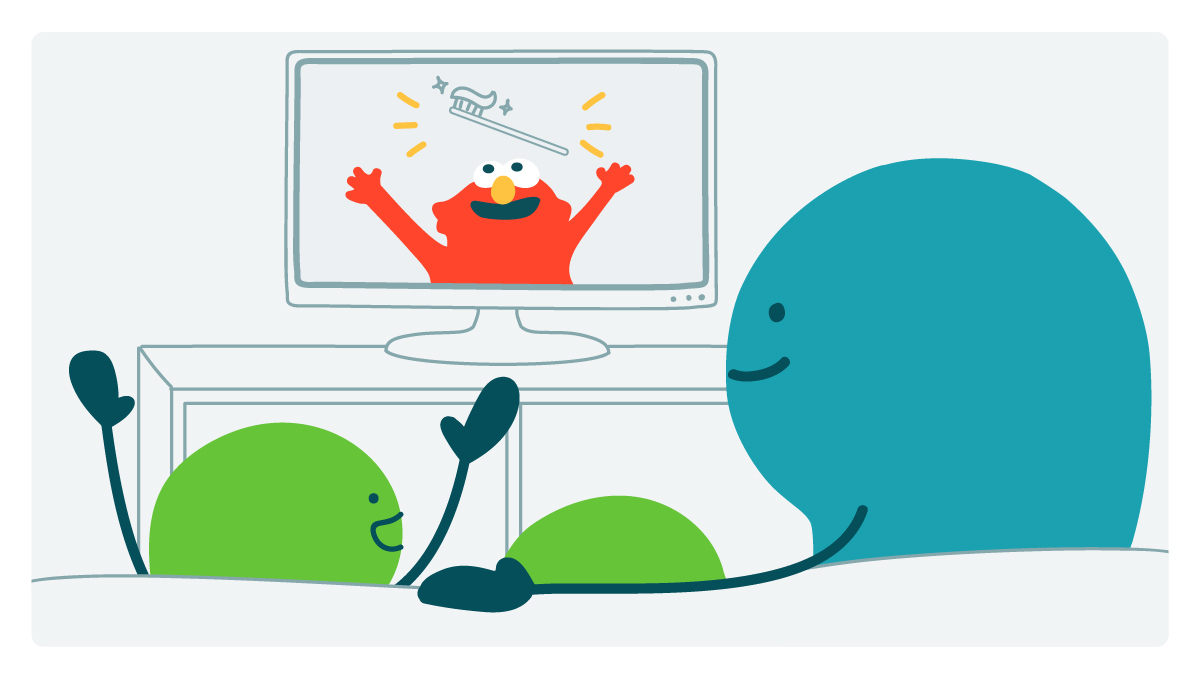 Here at We ❤️ Health Literacy HQ, we're big fans of Sesame Street — which has been serving up clear, actionable educational messaging for longer than many of us have been, well, doing anything at all! Today we're digging a little deeper into the world of one Muppet in particular. One who loves to talk about himself in the third person. He's also been known to sing with famous people and to pop up on the occasional late-night talk show. (He's very popular.) That's right, we're talking about the fan-favorite, furry friend-to-all Elmo.
Elmo has done all sorts of things to bring about learning and laughing since he first showed up on Sesame Street in 1984. And with Elmo's World, his Sesame Street segment for toddlers, he helps prepare our littlest learners for the real world by exploring topics like how to brush your teeth or ride a bike. But we think the best part of Elmo's World isn't what he's teaching kids but rather how he's teaching them. You see, Elmo is a pro at teaching kids to navigate new and unfamiliar topics — in other words, how to learn in the first place.
And this brings us to the fact that Elmo's approach to teaching his audience about a topic that's unfamiliar to them holds some valuable lessons for health communicators. So the next time you're writing about a tricky or in-the-weeds health topic, take a little trip to Elmo's World to leverage his tips for helping your audience learn something new.
Answer common questions. Elmo likes to encourage his viewers to pause and talk it out when they're confused or not sure about something. We couldn't agree more, which is why we often use a Q&A format to structure our health content. Putting ourselves in people's shoes by thinking through their potential questions is a powerful health comm strategy. Just be sure to use questions someone would actually ask (as opposed to forcing it for the sake of the format) and answer the questions you've raised right away.
Offer credible sources to learn more. Elmo knows that kids might want to learn more than what he can teach in a few minutes, so he encourages them to find trusted sources that can provide more information. Chances are, you also won't be able to cover every single fact about a complicated health topic in a single material. This is exactly why we're so into the "bite, snack, meal" approach to writing — it helps us package our content into different "serving sizes" based on what we know about our audience.
Encourage conversations and knowledge sharing. Elmo reminds kids that sharing what they learn can lead to meaningful conversations with people in their lives. Again, we agree! That's some of the thinking behind tried-and-true communication strategies like the teach-back method, which can be super helpful for health communicators teaching information in real time.
Celebrate the wins! As health communicators, we won't always be around to help our audiences enjoy the triumph of learning something new. But we don't think that should stop anyone (communicator and communicatee alike!) from celebrating health literacy wins. How? Well, Elmo is fond of a happy dance — and we're not going to argue with Elmo.
The bottom line: Take a trip to Elmo's World to find valuable lessons for helping your audiences learn something new.
---
Tweet about it: .@CommunicateHlth invites you to visit Elmo's World to discover valuable #HealthLit lessons for helping your audiences learn something new: https://bit.ly/3N1Pzso
Browse recent posts