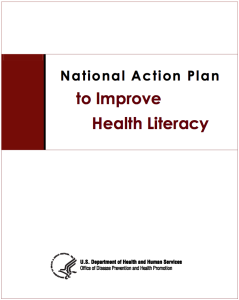 The US Department of Health and Human Services (HHS) has released The National Plan to Improve Health Literacy — with support from Sebelius and others who see the relationship between improving health literacy and increasing access to cost-effective, high-quality health care.
The action plan contains seven goals, each with specific strategies for different sectors of the health system, such as payers, the media, government agencies, and health care professionals, to improve health literacy. These goals emphasize the importance of creating health and safety information that is accurate, accessible, and actionable. (Read the full press release from HHS.)
"We each have a role to play in improving health literacy," notes CommunicateHealth co-founder Stacy Robison, who served as a contributing editor of the National Action Plan. "Improving the way public health professionals and the media communicate health information will go a long way toward achieving our goal of a health literate society."
Listen to an interview with the lead editor of the National Action Plan, Dr. Cynthia Baur, to learn how individuals and organizations can use the action plan.
Browse recent posts