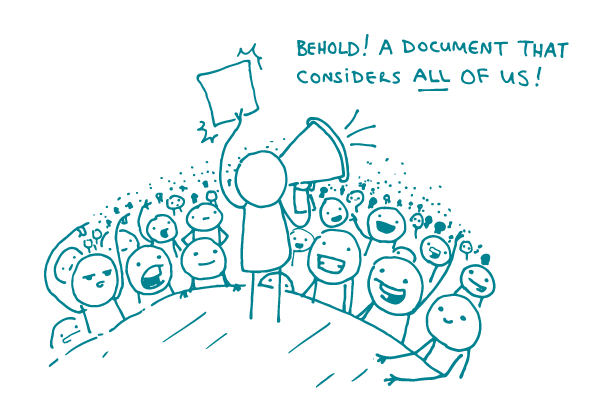 We've talked about knowing your audience and tailoring your content, but how do you write relevant content when your target audience is very broad? Say, all Americans ages 18 through 45?
That's a big group of people with really varied demographics. In these instances, your main objective is to not exclude any of your readers. You do this by focusing on things that are accessible to — and inclusive of — nearly everyone in your target audience.
Use these tried-and-true tips to create content that will work for (almost) everyone you're trying to reach:
Use common, realistic examples. Cross-country skiing is a great way to stay active, but it's not an option for people in warmer climates or those who can't afford the equipment. Instead, give low-cost exercise examples that could work in warm and cold weather — like walking or playing catch.
Avoid assumptions. Let's say you're writing content for pregnant women. Instead of saying "your husband," "the father," or even "your partner," try using more inclusive language, like "partner, family member, or friend."
Test your materials. Ask research participants: Who do you think this material is written for? Would you be able to do these action steps? Then adjust as needed.
As always, keep your message concise and in plain language.
The bottom line: When you're writing for a broad audience, consider their diverse needs to make sure your content hits the mark.
Browse recent posts