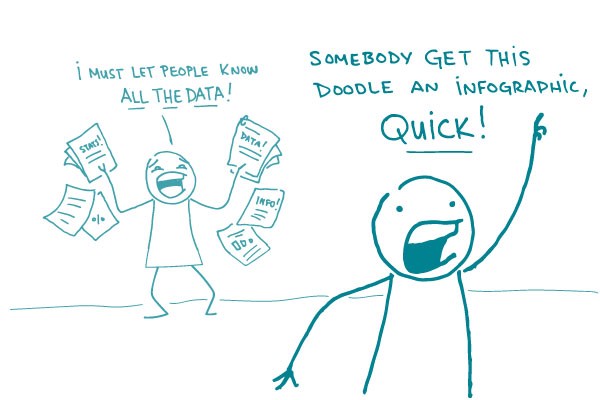 Infographics are all the rage lately — and it's easy to see why. Their visual appeal makes them 30 times more likely to be read compared to text articles. Plus, information that's presented visually is easier to understand and remember. What's not to ❤?
Creating infographics is a great way to get your audience's attention — but, sadly, infographics don't always live up to their potential. So, how can you make sure your infographic hits the mark?
Here's our (about to be less so) secret formula:
Keep it accurate. Start with reliable raw numbers and choose a type of visualization that makes sense for your data (none of these, please!).
Choose a hero statistic. Make the most impressive fact you've got the focal point of your infographic.
Tell a story. Use your hero statistic and other supporting data to construct a narrative that drives home your main message (you do have a main message, right?).
Design thoughtfully. Use elements like contrast, visual weight, placement, and shape to make your hero statistic "pop."
Keep it simple! Keep text to a minimum, include plenty of white space, and stick to a limited color palette so you don't overwhelm your reader.
Design with sharing in mind. Horizontal infographics — or those that can be broken into horizontal sections — are easier to share on social media.
Need some inspiration? Check out these most-shared infographics from 2014 to get ideas.
P.S. Don't forget the alt text. It'll make your content accessible to blind and visually impaired audiences and improve your search engine optimization (SEO). Bonus!
The bottom line: Good infographics aren't just pretty pictures — they use visual data to tell a story. Use a hero statistic and simple, intentional design to make yours a winner.
Browse recent posts