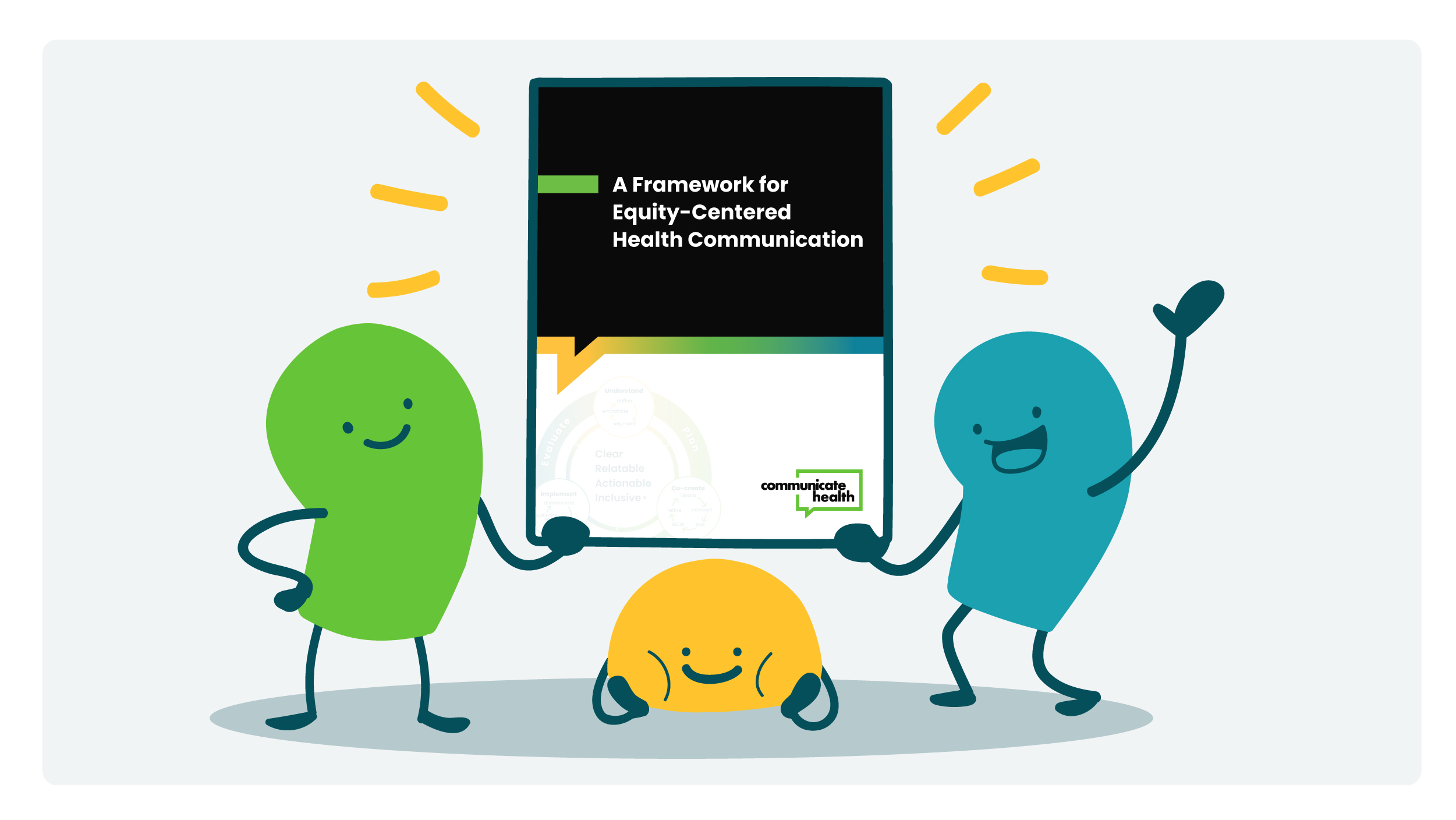 Well, it's an exciting day here at We ❤️ Health Literacy HQ because we're rolling out our new Framework for Equity-Centered Health Communication! This is something we've been thinking about and working on for a long time — and we're proud to share it with you here today, our dear readers. Check out the framework now.
Right off the bat, we want to emphasize that we're really interested in your feedback on this resource. We certainly don't expect to get everything right, and we want to hear from you — folks putting the framework to, well, work — about how we can improve it. We've created an email address for you to share comments and suggestions. So tell us your thoughts by writing to equityframework@communicatehealth.com!
As to the "why" behind this framework, we'll let CH President Stacy Robison's foreword speak for itself. Below is a slightly abridged version.

---
The COVID-19 pandemic forced us to reckon with some hard truths. In response, pretty much everyone — including leadership at CDC — is calling for more emphasis on health equity, transparency, and clear health communication. At CommunicateHealth, we're all for it.
But how does this work in practice? Unfortunately, guidance in this department is a bit thin, leaving many public health communicators with more questions than answers. What does centering equity in health communication look like? And how is it different than what we've been doing to date? What does clear, accessible public health guidance sound like?
We have some ideas.
At CommunicateHealth, we've been following an equity-centered health communication model for more than a decade. We started with the fundamentals of health communication, and over the years we added some adult learning theory, mashed it up with principles borrowed from human-centered design, and elevated one criterion for success above all others: Is the information easy to access, understand, and use?
The result is a health communication framework that prioritizes equitable access to basic health information and services. It's by no means groundbreaking or even original. But it's simple enough to follow, and we've used it to train hundreds of CommunicateHealth team members over the years.
Public health communication is at a crossroads. And we're optimistic that, together, we'll chart the right path forward. We hope, in some small way, this framework will help set us on that path — or at least get us asking the right questions. Fact is, health communication can worsen health inequities, or it can start to close gaps in access and understanding. And small shifts in our methods and mindsets can make all the difference.
The future of public health communication is ours to redesign.
The bottom line: Check out and share our new Framework for Equity-Centered Health Communication — and let us know what you think!

---

Tweet about it: Heads up, #HealthComm colleagues! @CommunicateHlth has just launched a new framework for centering equity in the health communication process. Learn more: https://bit.ly/3l75qwD #HealthLiteracy #HealthEquity
Browse recent posts