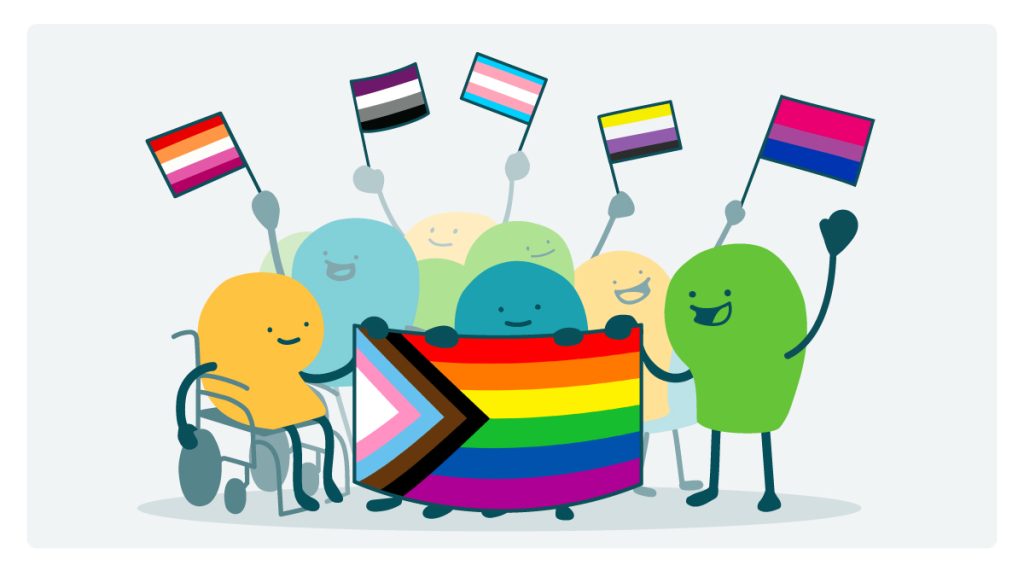 Here at We ❤️ Health Literacy Headquarters, we always look forward to celebrating Pride. And what better time to talk about making health communications for LGBTQ+ communities more inclusive, respectful, and effective?! It's one of our very favorite topics, and it's why we recently released our Inclusive Language Playbook: Writing for LGBTQ+ Communities. The playbook is all about choosing inclusive language that reflects diverse identities and experiences — and we hope you've had a chance to check it out!
With that in mind, today we're featuring our recommendation from the playbook to use gender-conscious language. We've touched on this topic before, but we think it's a good one to highlight on its own, too. Because even when it doesn't show up super directly, the way health communicators view gender can influence our materials in lots of different ways. For example, you often see doctors portrayed as men and caretakers as women. Then there are gendered terms like "male condom" or "women's health." Though they're common and might not give you much pause, these terms inherently exclude trans, nonbinary, and intersex people.
And that's why it's important to use gender-conscious language, which means being thoughtful and intentional about using gendered language when gender is important — and using gender-neutral language when it's not.
So for example, if you're working on a testimonial about a real patient's experience with a treatment, it's important to respect that person by correctly capturing their pronouns. In that case, you'd want to ask directly about their pronouns (not their preferred pronouns) and use the appropriate language. That's you being conscious about gender.
And in a fact sheet content development situation, gender-conscious language is the logic behind gender-neutral choices like:
"Partner," not "husband or wife" or "boyfriend or girlfriend"
"Child," not "son or daughter"
In those scenarios, you're still being conscious of gender — but you're deciding that a neutral approach is more inclusive of more people.
Whichever way it takes you, using gender-conscious language is one strategy to make sure that your writing honors your audiences' genders while still being as inclusive as possible. What's not to ❤️ about that?
The bottom line: Use gender-conscious language to keep your content respectful and inclusive. (And Happy Pride!)
---
Tweet about it: Happy #PrideMonth to all! This week, @CommunicateHlth is talking about the benefits of gender-conscious language in #HealthComm materials. Check it out! https://rb.gy/ejy3j #HealthLiteracy
Browse recent posts