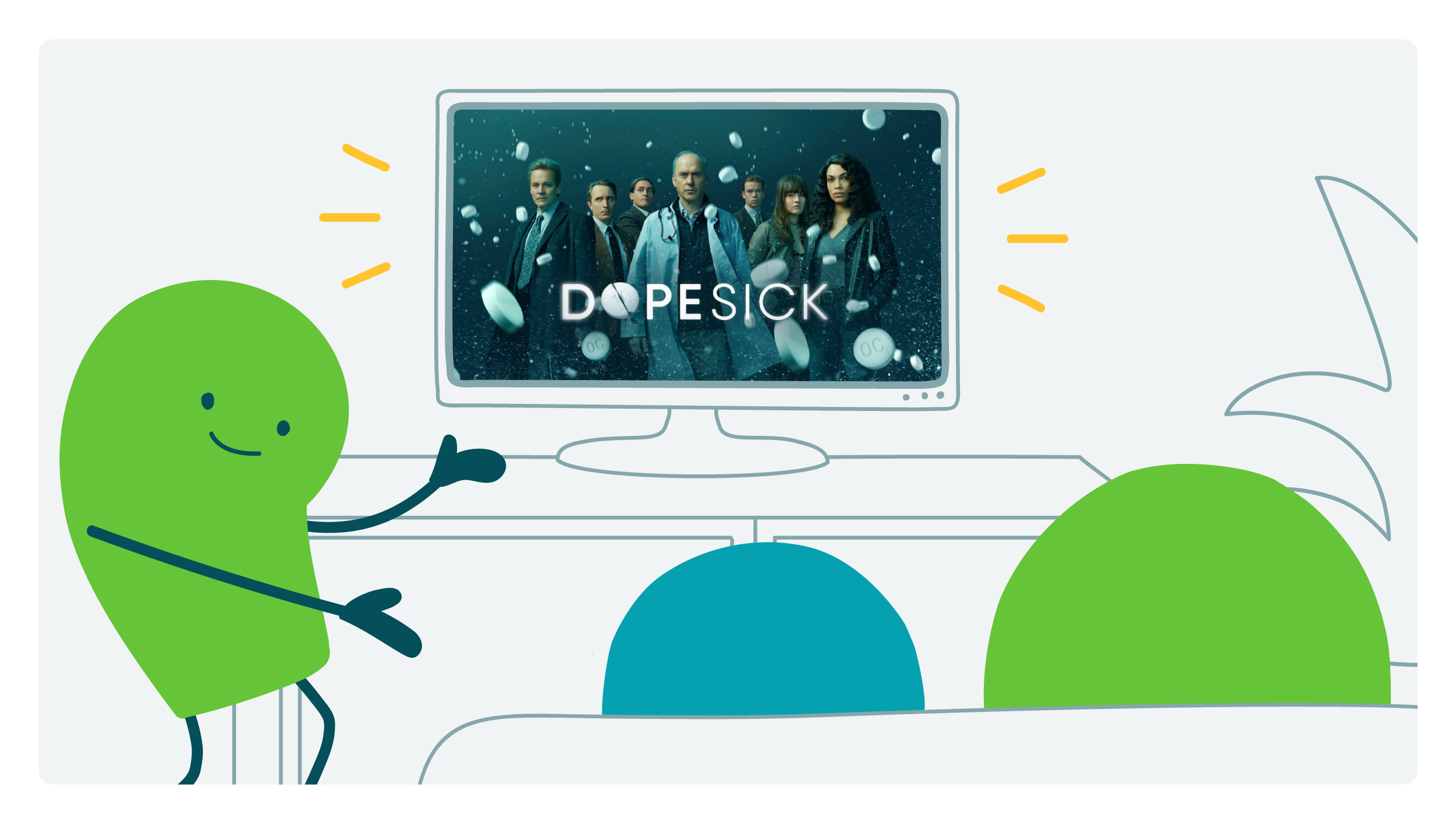 You probably know some people who've spent a lot of time during the pandemic cultivating new and fulfilling hobbies. A few of us at We ❤️ Health Literacy HQ, on the other hand, recently found ourselves staring down the reality that we must've spent most of our free time watching television.
This became clear during some proverbial water-cooler talk about the Emmy Awards, which aired Monday — turns out, we'd watched pretty much every featured show! Well, even the hardest-working health communicators need a little respite. (Though perhaps not that much respite.)
Anyway, on Monday, Michael Keaton took home the Emmy for best actor in a limited series or movie for his work in Dopesick. And chances are, dear readers, you have some pretty profound context for this show. It's based on Beth Macy's 2018 nonfiction book of the same-but-slightly-longer name: Dopesick: Dealers, Doctors, and the Drug Company That Addicted America. To be clear, the 8-part series is fiction — with dramatized details, composite characters, and the like. Unfortunately, the larger story it tells is anything but.
Dopesick chronicles the all-too-real beginning of the U.S. opioid addiction and overdose epidemic. Keaton plays a doctor treating patients in Appalachian mining country when OxyContin, Purdue Pharma's new painkilling crown jewel, hits the scene in all its glory — its non-addictive glory, as Purdue's claims had it. Dopesick gives a lot of screentime to what's happening as Purdue's owners, the now-notorious Sackler family, craft marketing strategies and incentivize their reps to make sure OxyContin levels the other painkillers of the day — in turn, making them gazillions of dollars. Those behind-the-scenes scenes are some of the hardest to stomach.
But then there's not much here that's easy to stomach — and that's not a criticism of the show. We're glad to see this story take center stage in an accessible format. It's important that people understand how we got where we are today.
And where we are today is very much in an opioid overdose epidemic. That was true before COVID, and research suggests that opioid overdose deaths only increased during the pandemic due to stress, isolation, limited access to interventions, and other factors. We don't have final numbers yet, but — thanks in large part to the skyrocketing number of fentanyl-related overdose deaths — they're not likely to be good.
So yes, Dopesick is a tough watch, but it's an important reminder of one of the most profound public health crises of our time. Obviously (and correctly!), the public health focus over the last few years has been on COVID. But let's help each other keep the opioid overdose crisis top of mind. With almost 500,000 Americans dead from opioid overdoses between 1999 and 2019, it's too important not to.
The bottom line: Dopesick explores the advent of the U.S. opioid overdose crisis. It's a tough watch, but it's worth it.
---
Tweet about it: Dopesick explores the advent of the U.S. opioid overdose crisis. It's a tough watch, but it's worth it, says @CommunicateHlth: https://bit.ly/3S5y0th
Browse recent posts