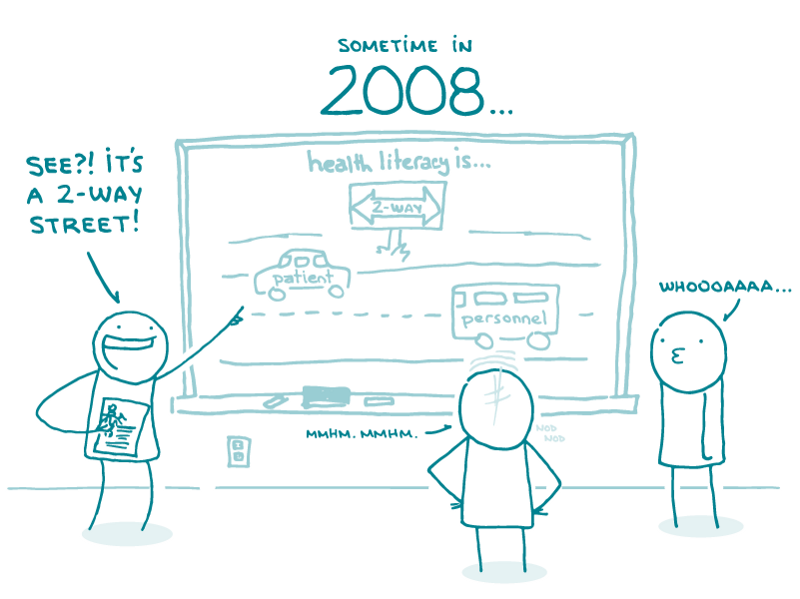 We know that you all ❤ health literacy — and we bet you have some serious health literacy skills, too. But were you born with your amazing ability to parse tricky health information? Or did someone teach you these skills? We're guessing it's the latter!
This week, we're taking a little trip down memory lane and sharing our appreciation for a document that helped lay the groundwork for educating health literacy superstars like you.
In 2008, The Centre for Literacy (now, sadly, closed) hosted a summit that set out to redefine health literacy, develop rationale for teaching health literacy in schools, and guide the creation of curricula. The product of their work was the Calgary Charter on Health Literacy. And it's awesome.
The Charter provides a framework for some of our very favorite activities: providing health information that's easy to use and understand, helping people transform information into action… we could go on. And on and on.
But the Charter's most valuable contribution may be that it redefines health literacy as a mutual exchange between people and their health systems — a 2-way street of health information.
Just look at this gem from page 2:
"Prior definitions have largely identified health literacy as relating to the patient, and have under-emphasized the role of health system personnel. One of the goals of a health literate society is to have a more equal power relationship between those who work in the health system and those who use it."
Yes! Yes! Yes! Shout it from the rooftops, dear readers. It's that good. If you love it as much as we do (and that's a lot), you can put your name on it. Visit the site to add your signature to the bottom of the Calgary Charter.
The bottom line: Check out the Calgary Charter on Health Literacy to get inspired about making health literacy part of a well-rounded education.
Tweet about it: Check out @CommunicateHlth's tribute to the Calgary Charter on #HealthLit (eracy): https://bit.ly/358yGGP
Browse recent posts