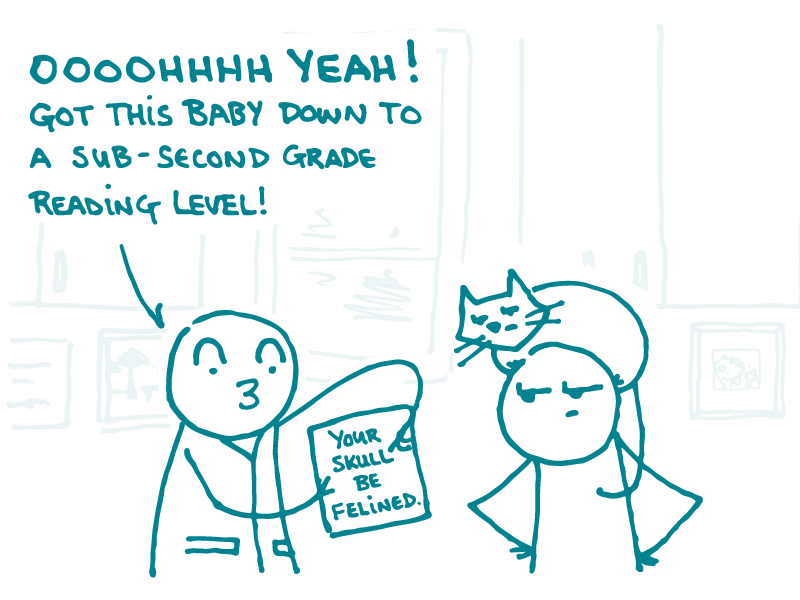 Readability scores can give health communicators an immediate sense of accomplishment. Who among us hasn't been pleased to say, "My material went from an 11th-grade reading level to a 6th"? It may be tempting to rest on our readability laurels, but what does a reading grade level really tell us?
Unfortunately, not all that much. Readability formulas use the number of syllables, words, or sentences in a document to calculate a score in the form of a grade level, like 10th grade. This means that, theoretically, your audience needs at least a 10th-grade reading level to understand your content.
And that's exactly what the score is — theoretical. If you take that same document and score it using 3 different readability formulas, you'll get 3 different scores. And they may range from 8th grade up to 14th. Not all that helpful, is it?
That's because a grade-level readability score is not a measure of health literacy. Short sentences with short words are just that — short. They're not necessarily understandable, actionable, interesting, or useful to your audience.
In other words, readability scores can miss a lot. They don't assess whether your material:
Uses words that your audience understands
Uses easy-to-read fonts and numbers in a clean design
Has a tone that's appropriate for your audience
Includes images that connect to your main messages
Takes your audience's knowledge and experiences into account
Our advice: Focus on the factors that help your audience understand and use your material, and readability will follow.
So, if readability formulas are flawed, why do so many people keep using them? Great question! Check out Rethinking Readability Scores: Part 2 to get the answer.
The bottom line: Skip the grade-level readability formulas and focus on making edits that will help your readers understand and use your content.
---
Tweet about it: What do readability scores tell us? Unfortunately, not all that much, says @CommunicateHlth. Learn why: https://bit.ly/39vzcWc #HealthLiteracy #HealthComm
Browse recent posts