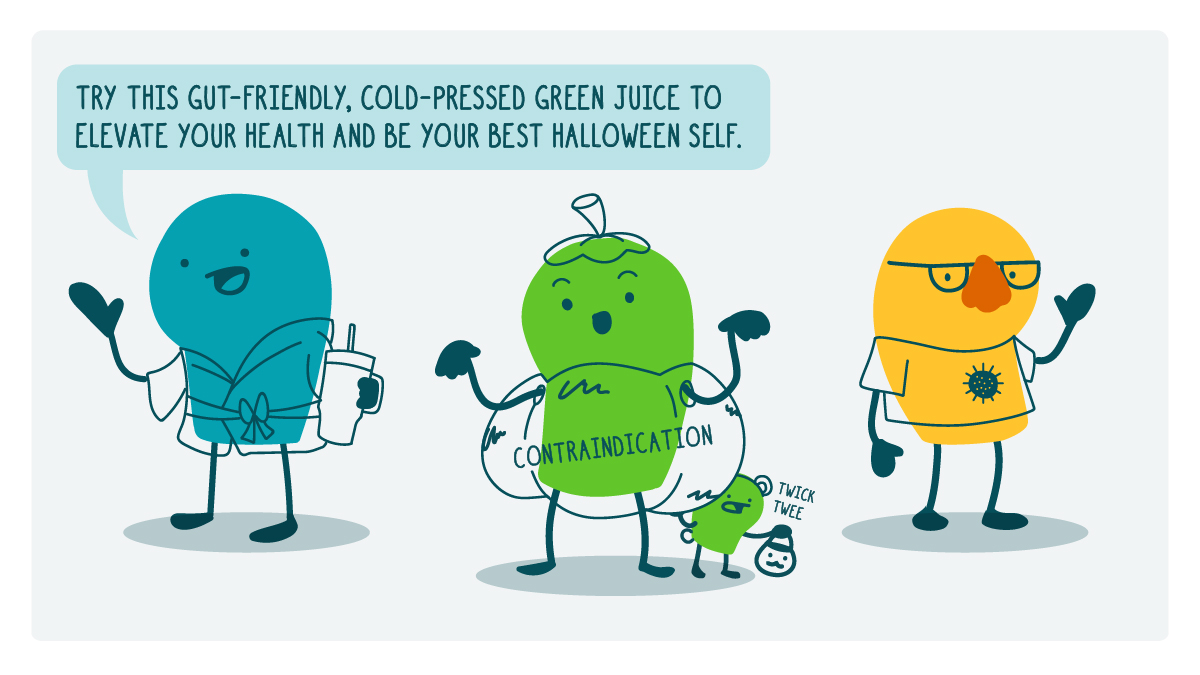 It's the spookiest time of year — Halloween is just around the corner! If you find yourself at a loss at what to wear to your company Halloween party, don't despair, dear readers — we've got you covered. Below, you'll find some scary costume ideas that will have all your public health and health comm colleagues screaming with fright.
The Pseudoscience Influencer. What the Pseudoscience Influencer lacks in scientific evidence, they make up for in conviction — passing out misinformation like Halloween candy. They have opinions on just about any health topic, which they promote confidently to their inexplicably large social media following. To create your Pseudoscience Influencer costume, pick up the trendiest lounge set you can find and keep calm and carry on "correcting" your colleagues as they try to share evidence-based info. After all, most health problems are solvable with the right juice cleanse, right?
The Jargon Jack-O'-Lantern. Who doesn't love an ornately decorated pumpkin to get into the Halloween spirit? Well, in this case, possibly your colleagues. To get your Jargon Jack-O'-Lantern get-up ready, you simply need to gather an all-orange outfit of some kind, a sharpie, and a brown hat. Next, use said sharpie to cover your orange outfit in the most hair-raising, spine-chilling medical and public health jargon terms you can conjure up. Really go for it, and you'll basically be like a traveling haunted house for health comm folks — everywhere they look it's "contraindication" and "utilize" and "subcutaneous," oh my!
The Pathogen. Perhaps the most terrifying of all, the Pathogen attaches itself to any gathering of 2 or more people — lurking, uninvited, waiting for a chance to spoil everyone's fun. To avoid detection, the Pathogen wears neutral-colored clothing. But be ready to mutate, err, pivot at any moment — because just when people think you're finally gone, you pop back up wearing some ever-so-slightly different accessories.
The bottom line: With our costume ideas, you're guaranteed to be the talk of every public health Halloween party — though you might not be invited back next year.
---
Post about it on X: Not sure what to be for #Halloween? @CommunicateHlth's got you covered! Check out these scary costume ideas for #PublicHealth and #HealthComm professionals: https://bit.ly/3QxOY5C #HealthLiteracy
Browse recent posts