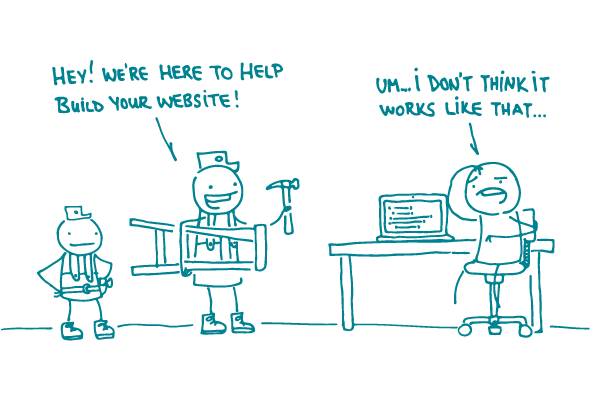 We've talked before, dear readers, about some of the more technical aspects of health communication on the web, like how to make sure your content is accessible. But what if your web content (and your website) exists only in the futuristic ether at the moment?
Welcome to the first installment of a new, occasional series of posts about how to build your own website! Today we're talking about tools — as in, tools for building a website if you don't have designers and developers to do it for you. Here are a few free or low-cost options you may want to consider.
Drupal is a powerful website platform with near-infinite options for functionality. It's probably more than you need if your website plans are fairly simple (think: a few pages and a blog), but we're including it here because we like the flexibility it offers.
Kirby is an up-and-coming platform that's become a favorite of our developers. It's a bit more limited than Drupal, but it's reliable and capable (like a well-built, mid-sized car). You'll need a wee bit of techie knowledge to get the most out of Kirby, but the simple interface makes it really user friendly. And there's plenty of room to grow if you want to add a lot more pages or an extra-cool feature (like an interactive map) at some point later on.
And for the completely non-techie folks out there, WordPress is a solid option. It's easy for anybody to use because you never have to touch any HTML code, and it makes it pretty simple to customize your site's look and feel.
So there you have it, dear readers — there are plenty of options to choose from! Now get to building … and stay tuned for more posts about other aspects of creating a website of your very own.
The bottom line: You can build your own health website — with a little help from your friends.
Browse recent posts