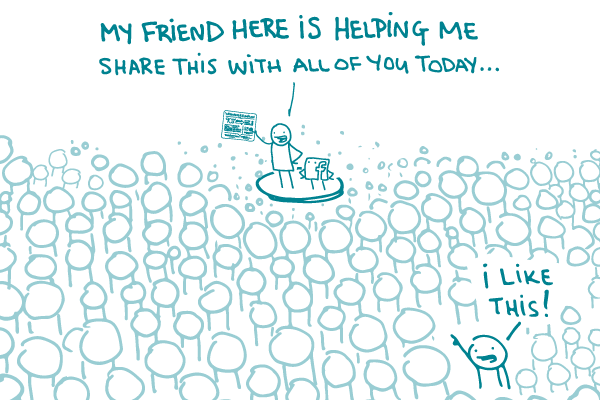 In the last installment of our social media series, we shared tips to make your content stand out on Twitter. Today, we're going to talk about the most popular social media platform in the United States — the one most of us are aimlessly scrolling through while on the subway, in the waiting room at the dentist, or even in bed before drifting off to sleep.
That's right. We're going to talk about Facebook.
Want to hear something wild? In the United States, 68% of all adults use Facebook — which works out to 8 in 10 internet users. And 76% of people on Facebook use it every single day.
What's so neat about Facebook? Why is everyone and their mother (no, really — moms ❤︎ Facebook) using it? And how can you use it to effectively communicate about health? Have a seat, dear readers, while we share our take on why Facebook has become so universal.
This most prominent of social media platforms can help you:
Connect with people — lots of them. With so many daily active users, Facebook lets you access a wide network of people (more than any other social media platform). This helps you get your messages out to the masses.
Say more. With no character limit, Facebook gives you some breathing room to make sure your content is easy to understand.
Cozy up with your audience. Facebook lets you engage directly with your audience. With comments, replies, and reactions, it's never been easier for your audience to interact with your content — and for you to respond accordingly. Who doesn't ❤︎ a little 2-way engagement?
Be trendy. Facebook keeps track of the topics that people are talking about so you can get in on the hot-button conversations.
Easily share visual content. It's no secret that visuals help users understand and remember your content. And they keep users engaged, too! Whether you're sharing an infographic or shooting a live interview from your phone, it's easy to upload, view, and share visual content on Facebook.
There you have it, dear readers. With such perks, it's no wonder why everyone is on the 'book!
The bottom line: Facebook is a great way to share content with the masses and have engaging conversations with your audience.
Browse recent posts