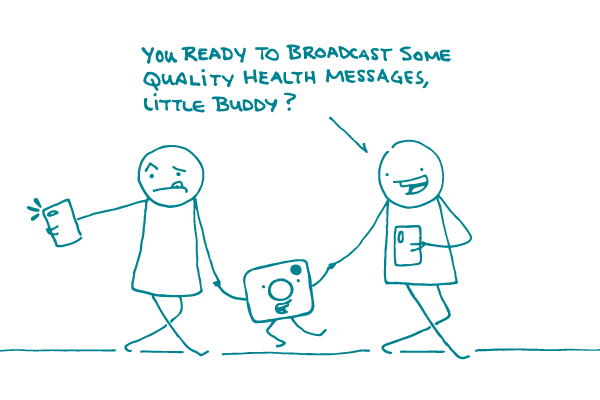 In our last social media installment, we talked about Facebook, ruler of the social media kingdom. Today we're moving on to another key player in the social media game — Facebook's little brother, if you will: Instagram.
Instagram is the biggest photo-sharing app. What does this mean for you, dear readers? New and exciting opportunities to share relevant and meaningful content with your audience! It's a great way to start a conversation about health — and you know we ❤︎ that.
Let's dive in. Here are just a few of the things you can do with Instagram:
Model healthy behaviors. Every day, Instagram is flooded with workout tips, healthy recipes, and inspirational messages to help people live happy and healthy lives. This makes it a great place to share your health messages.
Get real. A picture is worth a thousand words — and when it shares a story from someone directly impacted by the work you do, it's worth even more. Instagram is the perfect place to get up close and personal so users feel connected with your brand and inspired to engage.
Dress up your data. Grab your audience's attention and spread awareness about the importance of your work by sharing facts in a way that's visually appealing, like with an infographic or interactive video.
Promote content for a wider reach. If it's in your budget, paid promotion is a great way to make sure your target audience sees your content. Plus you can run ads on both Facebook and Instagram using Facebook's Ad Manager platform to maximize your potential reach.
The bottom line: Use Instagram to share real, relevant, and visually engaging health information with your audience.
Browse recent posts