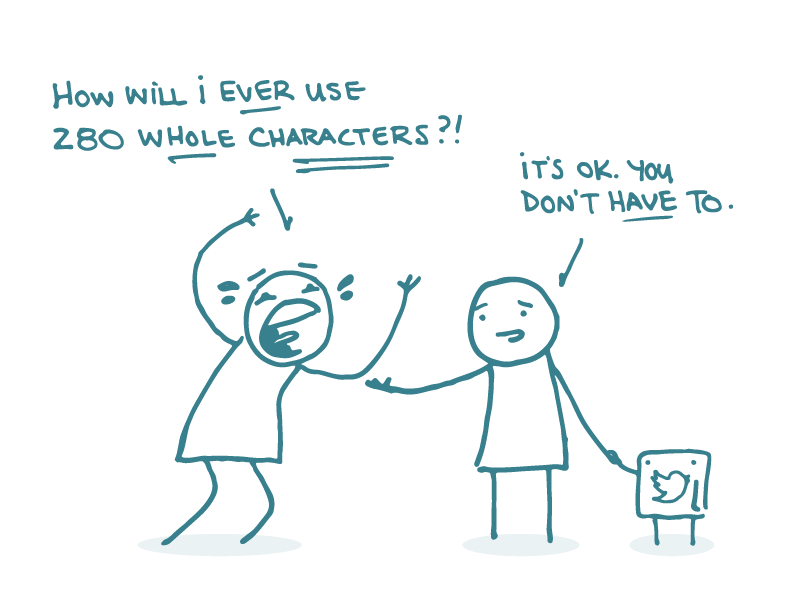 As you doubtless already know, dear readers, Twitter has gone through some ch-ch-ch-changes (go ahead, belt it out!) in the past year. Last November, after a brief pilot period, Twitter switched for good to a higher character limit. This means we all have 280 characters available per tweet — instead of the original 140.
When this change hit, plenty of organizations pondered the implications of the added characters for their Twitter strategy. How would they approach this new limit? Were all those hours spent crafting 140-character tweets in vain? What did it all mean?!
Since then, it's become clear that the expanded character count hasn't affected much — at least when it comes to, well, character count. According to a recent remark from Twitter's CEO Jack Dorsey, the average tweet length has remained basically the same since the change. This isn't very surprising, since Twitter's original trial of the new limit showed that only 5% of users took advantage of it.
But, Dorsey said, it looks like the expanded character count has positively affected engagement. With this bit of added breathing room, users are engaging more — for example, including more mentions. Since the switch, users are getting more followers and returning to Twitter more often. It's the best of both worlds: tweets remain brief (which is what makes Twitter great!) and people are using the platform more.
So what's a Twitter-using health communicator to do now? First, keep thinking of Twitter as a good way to share information and connect with your networks. And when it comes to writing tweets, take your cue from the general Twitter population: just because you can use an extra 140 characters doesn't mean you should. Channel your pre-November 2017 self and keep your tweets short whenever you can.
The bottom line: Keep using Twitter to share important messages — and keep doing it with as few characters as possible.
Tweet about it: Let's talk about those extra 140 characters. @CommunicateHlth has thoughts: bit.ly/2wQG3pb #HealthLit
Browse recent posts