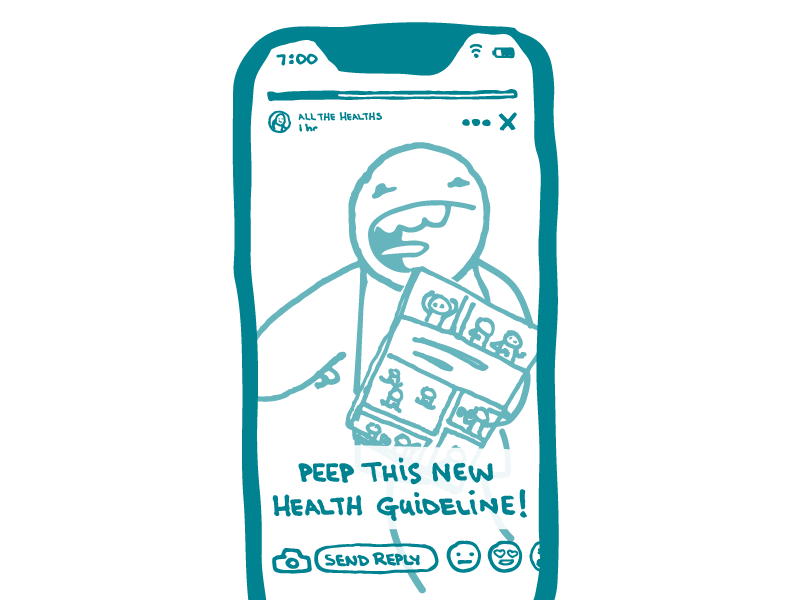 Here at We ❤ Health Literacy Headquarters, we're always looking for engaging ways to share health information on social media. And one of the best ways we've found to connect with people is through videos.
Want to explain a complicated thing like, you know, health stuff? Put it in a video! If you haven't heard, video content is the best-performing type of content across all social media platforms. That means it's the most viewed and most shared type of content on Facebook, Instagram, Twitter, and — more predictably — Snapchat and YouTube.
We've shared tips for creating videos for health information in the past. But what if your budget doesn't include creating videos the old-fashioned way? Well today, dear readers, we're chatting about a couple features that allow you to add video content to Facebook and Instagram — for free!
Tell your users a story
Both Facebook and Instagram now have video features called Stories — and people just ❤ them. With Stories, you can post short videos (15 seconds on Instagram, 20 seconds on Facebook) that disappear after 24 hours. Stories are great for sharing timely content and connecting directly with users. Oh, and both platforms let you play around with stickers and music to jazz up your Stories and increase reach.
So, new key health guideline just released? Let people know your 2 cents in a story!
Pro tip: Facebook Stories lets you put these videos on event and group pages, which means you can get your content in front of niche groups of Facebook users.
Go live
Facebook Live and Instagram Live both let you livestream content and interact with users in real time for a longer period of time (up to an hour on Instagram, up to 1.5 hours on Facebook). Both platforms notify your followers when you're live and let them like and comment as they watch.
Facilitating a Q&A with experts on a health topic and want your users to tune in and participate? Live is your best bet for real-time engagement with users.
Pro tip: Facebook lets you save Live videos on your page so you can use them again (and again and again…).
The bottom line: Use cost-effective social features to make videos and increase engagement on social media.
Tweet about it: .@CommunicateHlth shares tips for creating #HealthLit social video content without breaking the bank: http://bit.ly/2KpZYSn
Browse recent posts