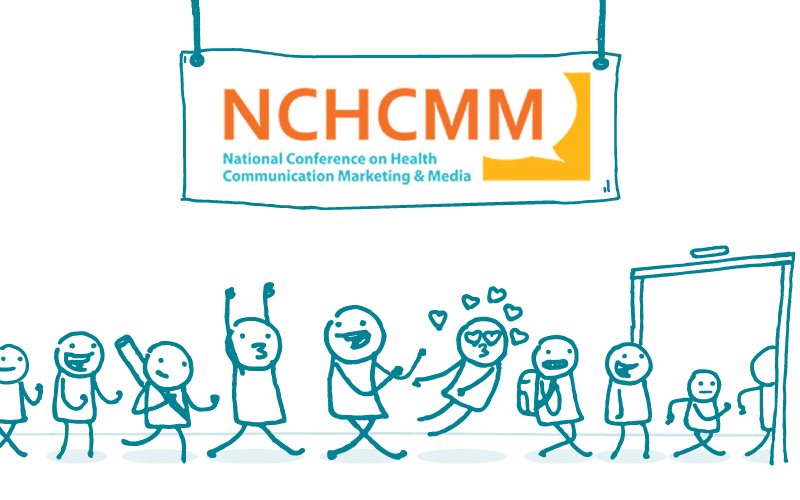 A few weeks ago, we ventured out of the We ❤ Health Literacy Headquarters to attend one of our favorite conferences: the National Conference on Health Communication, Marketing, and Media (NCHCMM). And it was great! So for this week's post, we're sharing our top 3 takeaways from this meeting of the health communication minds.
1. Make sure your message is relevant to your audience. Okay, dear readers, you've heard this one from us before. Dr. Jerome Adams, the U.S. Surgeon General, explained it like this: suppose your goal is to promote flu shots in your community, and your audience du jour is local business owners. Instead of only creating messages about how well the flu shot works, be super specific about how it benefits this particular audience. Fewer people with the flu = fewer employee sick days. Win win!
2. We've come a long way, baby! It's easy to forget that health communication — and health literacy — are relatively new concepts. People have always communicated about health, but it wasn't until the 1980s and 90s that health communication became its own field. (To put things in perspective, Ice Ice Baby existed before CDC had an Office of Communication.) Today, health communication is a well-established field with advanced degree programs, specialized peer-reviewed journals, and even our very own professional organization.
3. The best is yet to come. This year's NCHCMM theme was "Insights into Impact," which highlighted new tools that can help us become better health communicators. We heard about chat bots and machine learning for digital ad campaigns — and we even had the chance to show off our very favorite interactive infographic. None of these health communication tools were possible a couple decades ago. But now we're able to segment audiences more precisely, reach people with more targeted messaging, and access better data to measure our impact.
Interested in what others thought of the conference? Search #NCHCMM on Twitter to see some highlights!
The bottom line: The field of health communication has come a long way, and we're excited to move forward with it.
Tweet about it: Check out @CommunicateHlth's #HealthLit takeaways from the National Conference on Health Communication, Marketing, & Media: https://bit.ly/2R4gZkr #NCHCMM
Browse recent posts