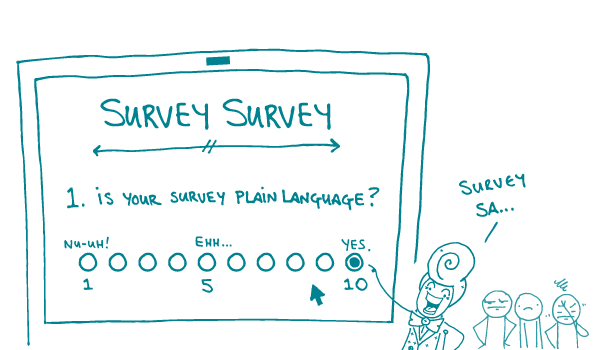 Online surveys can be great tools for learning about your audience, but it's important to create them carefully to get the information you want — especially if your audience has limited literacy skills.
Whether you're using existing survey questions or creating new ones, plain language and clear design principles apply (surely this is not surprising, dear readers).
If your survey is full of jargon, you might be testing how well your participants understand the survey itself, rather than getting accurate answers to your questions. (In fact, if your audience has extremely limited literacy skills, a written survey may not be a good way to gather information at all.)
Keep these tips in mind to make sure you've applied plain language and clear design principles to every last nook and cranny of your survey:
Write clear and simple instructions. If participants can select more than one answer, ask them to "Check all that apply."
If you're using a scale, make sure it's consistent and easy to understand. For example, if 1=bad and 10=good in the first question, stick with that format for the following questions, too. Switching up the response order can confuse participants and leave you with bad data.
Left-justify questions, charts, images, and the Next/Previous buttons. When you center or right-justify important information, it's easy for participants to skip over it.
Add visual cues to help participants follow along. Number questions, be sure to use plenty of white space, and let folks know how many questions are left.
Split questions into multiple pages. Long, scrolling surveys take longer to complete (it's so easy to lose your place!) and participants are more likely to miss questions. Instead, separate information into meaningful chunks, and arrange the chunks in a logical order.
Pilot test your survey. Test your survey with a small number of participants (10% of your total sample is a good rule of thumb) to work out any kinks.
The bottom line: Apply plain language and clear design principles to your surveys to get data you can use.
Browse recent posts