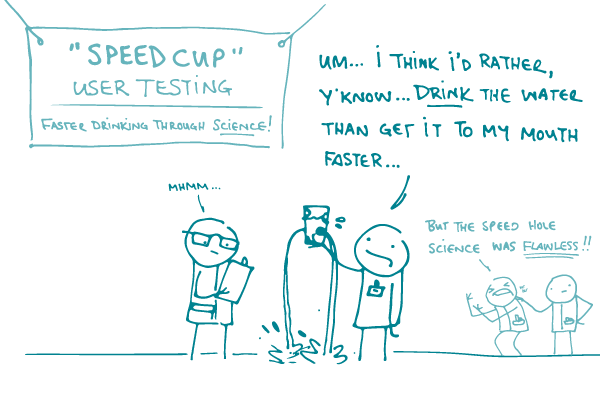 We know you've been there: you're trying to find a specific piece of information on a website. You navigate to where you expect it to be — it's not there. You find somewhere else it might fit, even if it's a stretch — nothing. You can't find it with the search function. You have failed, and you think, "I'm an intelligent, fairly tech-savvy human. Why can't I find what I need?!"
It's scenarios like this, dear readers, that keep us up at night. (No, really. It's true.) And that's why, in our latest installment on testing techniques, we're focusing on usability testing.
When you're creating a communication product, it's important not to make any assumptions. Usability testing helps you get past assumptions and find out how easy (or hard) it is to use your website, tool, or print material.
By having real-life users give it a whirl, usability testing gives you invaluable feedback on your product's navigation, labels, content, and design — feedback you can use to improve your product. And that, dear readers, means your target audience gets a product they can really understand and use.
Now, really. Who doesn't ❤︎ that?
Keep these tried-and-true tips in mind when you do usability testing:
Pick a few key tasks for participants to try. For example, can they find the schedule of first aid classes and sign up for a class?
See what people do on their own. Include time for some unguided, free exploration where participants just click on what interests them. Ask them to "think out loud" as they go.
Test in person when you can. It's helpful to see participants' reactions and non-verbal behavior as they're interacting with your product. And it's easier from a logistical standpoint, too! (You can also test remotely with an online screen-sharing platform when necessary.)
Always test with people from your target audience. After all, who needs to know how to use your product?
Consider recruiting folks who may have low literacy levels. Working with populations who may have limited literacy skills can help you make sure that your product is easy to use for everyone.
Test digital products on various devices — desktop, laptop, tablet, mobile, and beyond! You can even test on multiple devices with each participant, so they can interact with your product across platforms (and so you get more feedback).
And don't worry — usability testing doesn't have to break the bank. Also, be sure to check out Steve Krug's book Rocket Surgery Made Easy for more usability testing ideas.
The bottom line: Usability testing gives you super valuable feedback on how your product works (or doesn't work) for your target audience.
Browse recent posts