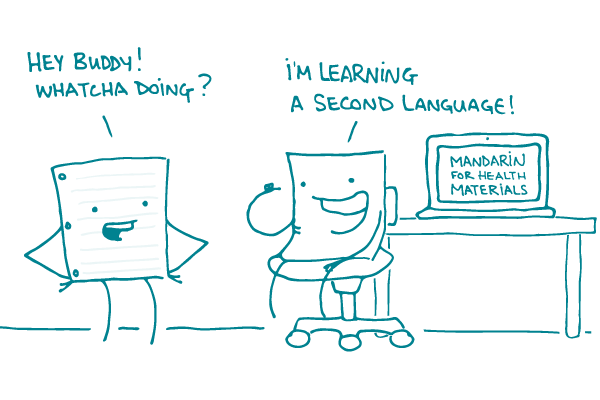 As you know, dear readers, translation is important. It makes your plain language, audience-centered content more accessible to people who struggle with English or can't speak it at all. In the United States, that's about 13 million people, according to the Census Bureau.
But what do we ❤︎ even more than a translated material? A bilingual one.
Despite the English language's many quirks (Do we really need both "who" and "whom"?), many immigrants and refugees want to learn it. The fact is that knowing English can make life — and things like staying healthy and navigating the health care system in this country — a lot easier.
Bilingual materials (materials that have content in both English and another language) give non-English speakers an opportunity to learn English words they can use to communicate about their health.
Let's say you hand a Spanish fact sheet on disease symptoms to a Spanish speaker. If you've done your job, she'll read it and walk away knowing what to look out for. Yay! But when she experiences a symptom, will she be able to talk about it in English? Probably not.
With a bilingual material, your reader can read the Spanish word for "fever" and then look for the English equivalent. She'll collect the words she needs to talk with English-speaking doctors or counselors next week, next year, and beyond.
Of course, with twice as much content, you may quickly find yourself staring at a page crammed with words. Fear not! Make your bilingual material easy to read by following a few design best practices (white space and chunks of content, oh my!).
The bottom line: Consider bilingual materials to help non-English speakers build their English vocabulary and improve communication with providers.
Browse recent posts