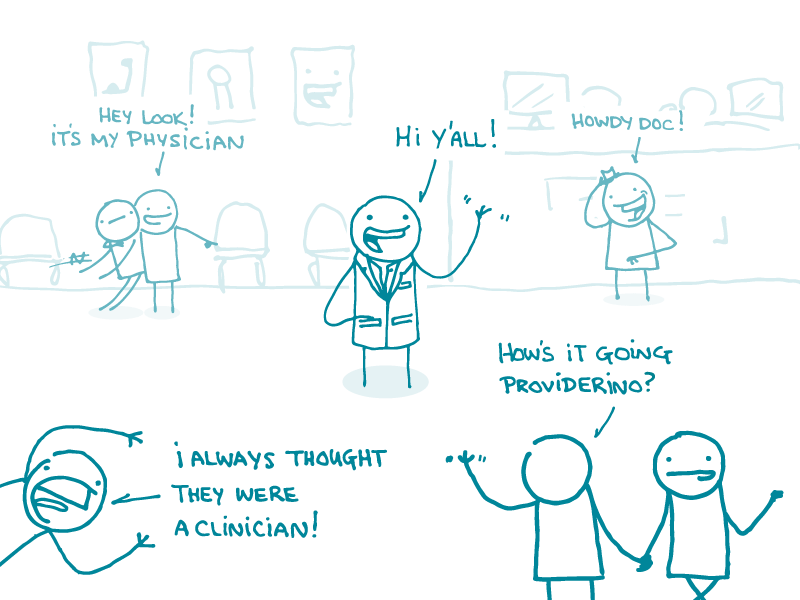 Let's kick off this post with a fill-in-the-blank exercise:
"I'm feeling sick. I think I'll go see my ______."
"An apple a day keeps the ______ away."
"Just what the ______ ordered."
For now, keep your answers to yourself. And no cheating! We'll come back to them later.
This week we're addressing a question we get a lot at We ❤ Health Literacy Headquarters. When writing about health care professionals for a general audience, is it best to say "doctor," "provider," or something else altogether?
Technically speaking, titles depend on degrees (obvs). But unless you're staring at a framed diploma, knowing the best way to refer to a health care professional can be tough. Our advice is to keep it simple and go with what most people use in everyday conversation: "doctor."
Yes, there's technically a difference between a doctor, physician, clinician, nurse practitioner, psychologist, physician assistant, and so on. But when people are feeling sick, they just go to "see a doctor." This is not the time to pull rank.
Of course, we do make exceptions sometimes. For example:
It might make sense to use "doctor or nurse" when talking about primary care (although repeating that phrase can make your content clunky, so use it sparingly)
If you're writing about something super specific, like childbirth, it's fine to say "doctor or midwife" — especially if you define for your audience what exactly a midwife does
Now, think about your answers to the fill-in-the-blank questions above. You answered "doctor" for all of them, right? In other words, using plain language just means that you write how you speak.
The bottom line: Don't be afraid to refer to different kinds of health care professionals as "doctor." Plain language is on your side.
Tweet about it: Don't be afraid to refer to different kinds of health care professionals as "doctor," says @CommunicateHlth. #PlainLanguage is on your side! https://bit.ly/2TESQpy #HealthLit
Browse recent posts