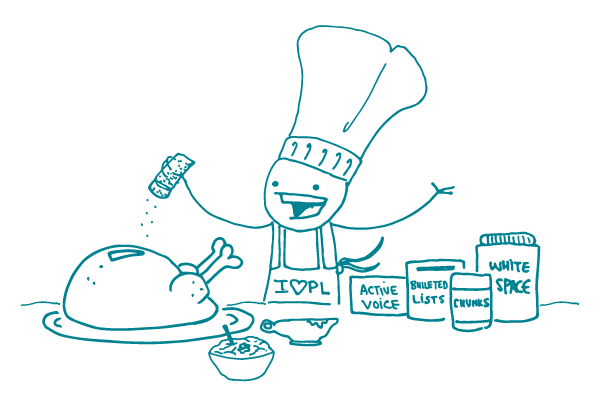 It's that time of year again! A time to give thanks, share gratitude, and (of course) eat a nice slice of pumpkin pie.
We're incredibly thankful here at We ❤ Health Literacy Headquarters for you, our dear readers. So we thought we'd share some ideas to help you showcase your stellar health communication skills at the Thanksgiving table.
You know that time-honored tradition where everyone shares what they're thankful for? And when it's finally your turn you sit there, tongue-tied, hiding behind your fancy napkin even though there's so much you could say?
Fear not — here's the perfect recipe to give thanks the plain language way.
Just a pinch. Keep it short and sweet. Grandma's already starting to fall asleep in her mashed potatoes.
A dash of this (not that!). Skip impressing your friends and relatives with jargon — no need to talk about your fantasy football "proficiencies" when you can say "mad skills" instead.
A scoop of specifics. Why exactly are you thankful for [insert name or thing here]? Don't be vague — give an example. It'll show how thoughtful you are!
The bottom line: This Thanksgiving, don't just give thanks for plain language — give thanks in plain language, too!
Tweet about it: This Thanksgiving, share what you're grateful for the plain language way with @CommunicateHlth! https://bit.ly/2DPU5df
Browse recent posts