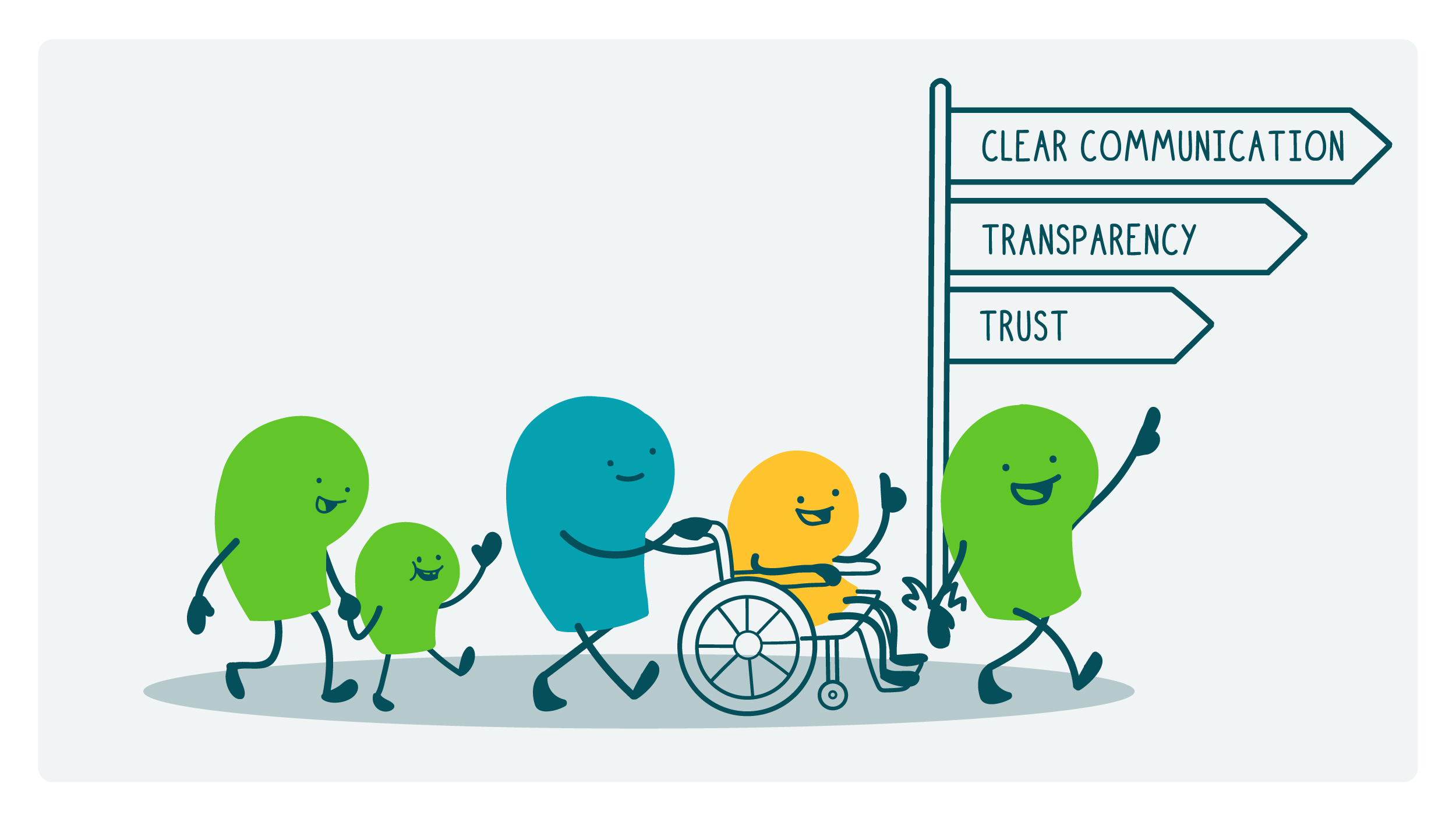 A few weeks ago, CDC Director Dr. Rochelle Walensky sent her staff a video outlining some changes she plans to make to our country's leading public health agency. The video came after 2 separate reviews that Walensky ordered back in April, one investigating CDC's COVID response and another its internal operations and policies more broadly. "To be frank," she said in the video, "we are responsible for some pretty dramatic, pretty public mistakes, from testing to data to communications. This is our watershed moment. We must pivot."
If you've been following us for a while, you already know that one of the main strategies we recommend for building trust with our audiences is transparency. And to her credit, Walensky was pretty darn transparent. This is critical because public health depends on public trust. And right now, that trust is fractured — and not just because of the at-times disastrous COVID response. As you know, dear readers, monkeypox has been serving up yet more challenges, including some communication conundrums. So if there were ever a time for CDC to "pivot"…
What does she mean by "pivot" exactly? Writing for Politico, Krista Mahr summed up the recommendations from CDC's pandemic response review as "a series of improvements, including releasing scientific findings and data more quickly to improve transparency, translating science into practical and easy-to-understand policy, improving communication with the public, working better with other agencies and public health partners, and training and incentivizing the agency's workforce to respond better to public health emergencies."
It'll come as no surprise that we zeroed in on the communication pieces. And really, you could argue that much of what Walenksy's talking about is communication related — take reexamining the involved data clearance process that may have prevented the timely exchange of critical information during key points of the pandemic. Or internal promotion incentives at CDC, which have focused on publishing scientific research in scientific journals (which are almost exclusively consumed by other scientific people) — not so much on using research to communicate effectively with consumers or craft actionable policy.
And of course we need to mention communication with the American public. Walensky made it very clear that one of her main goals is to build CDC's capacity to share actionable, plain language information with (non-scientific) people who need it. Hooray!
It's also worth noting that she provided some context for CDC's consumer communication shortcomings more broadly — the fact that, historically, CDC didn't do much public-facing communication. In an appearance on The Journal podcast, Walensky explained that CDC has mostly been in the business of communicating with other scientists and public health professionals (again, think researchers publishing data in scientific publications).
"I think this is an agency that is used to communicating with the scientific community, used to communicating with the public health community and not necessarily used to having to tackle mis- and disinformation in social media," she said. However you may feel about that, the important thing is that Walensky has explicitly named this as something that needs to change: "What became very clear during the pandemic," she said, "is that our audience is now the American people."
Talking to PBS NewsHour, Walensky stated her communication vision in no uncertain terms: "We need to distill the science that we're learning to the American people, so it's actionable, and it's implementable, it's understandable and accessible." Well, we couldn't agree more — and we're hopeful that CDC will take these important steps to help restore faith in our public health systems.
We'll be cheering the agency on from We ❤️ Health Literacy Headquarters.
The bottom line: We've got some work to do to rebuild public trust in public health. Dr. Walensky's plans for changes at CDC are a step in the right direction.

---
Tweet about it: #PublicHealth depends on public trust. Dr. Walensky's plans for changes at #CDC are a step in the right direction, says @CommunicateHlth: https://bit.ly/3QumBC0 #HealthComm #HealthCommunication
Browse recent posts