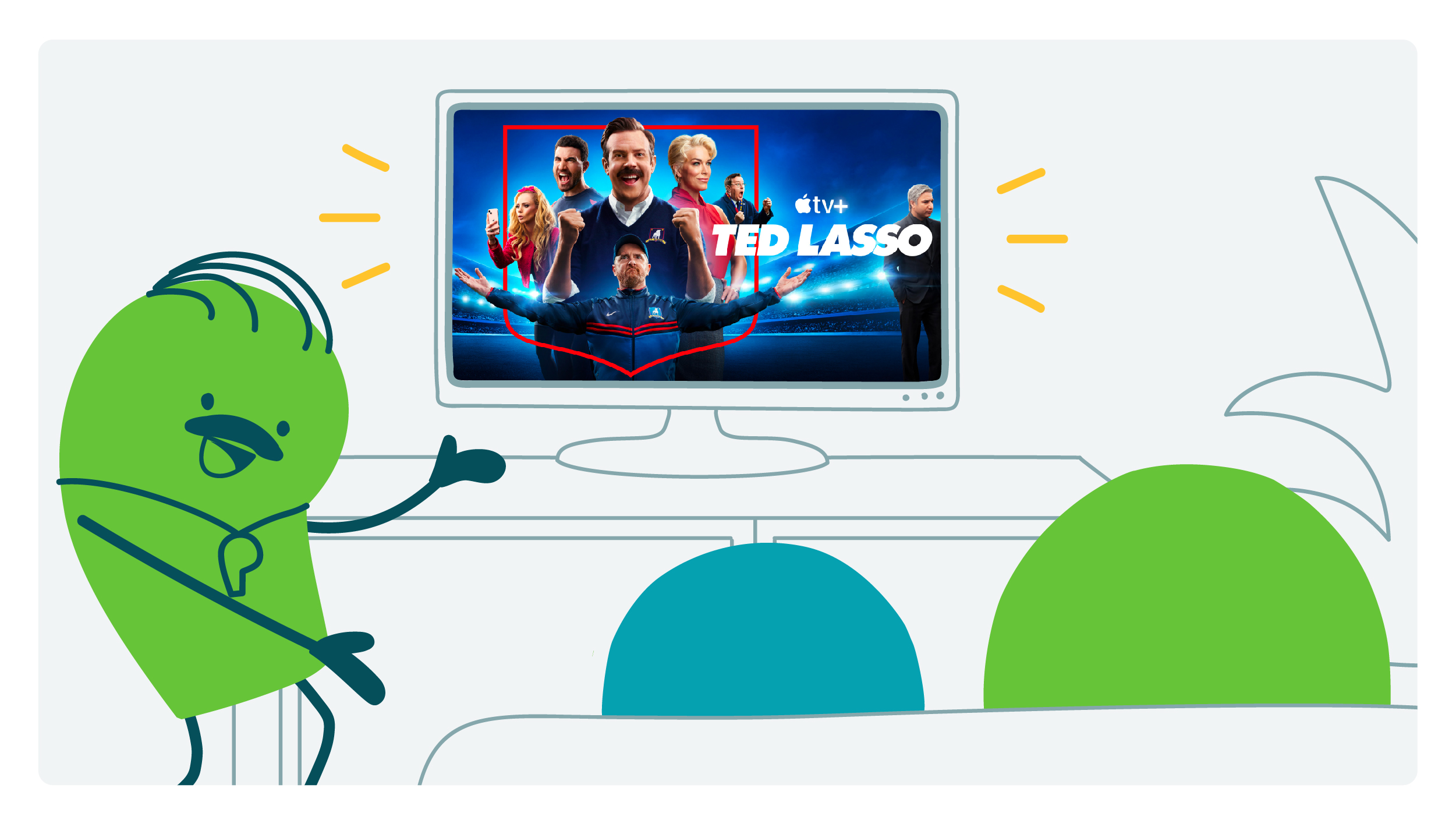 Here at We ❤️ Health Literacy HQ, Ted Lasso has been one of our fave binges. It's got it all: sporty spirit, lotsa laughs, trendy mustaches, feelgood vibes, realistic depictions of panic attacks, wait a second… yep, that's right! Ted Lasso also brings some important lessons about mental health to the proverbial table. And we're not the only ones who have been thinking about — and appreciating — that part of the show. In fact, a few months ago, some of the cast visited the White House to talk about mental health.
"No matter who you are, no matter where you live, no matter who you voted for," said Lasso (aka Jason Sudeikis) at a press briefing during the visit, "we all know someone — or have been that someone — that's struggled, that's felt isolated, that's felt anxious, that has felt alone. And it's actually one of the many things that — believe it or not — that we all have in common as human beings. And it's something that we should all talk about."
We couldn't agree more, dear readers! And we ❤️ to see messages like this coming from pop culture superstars like our friend Ted. Here are 3 key mental health lessons we're taking from Ted Lasso:
It's okay not to be okay. The show normalizes depression, anxiety, and panic attacks in a way that few pieces of fiction do — without theatrics, but with empathy, honesty, and authenticity. It sends the message that it's human to struggle, as most of us do at some point in our lives. And if that's not an important message right about now, we don't know what is.
It's okay to ask for help. At first, Ted rejects the idea of getting counseling to deal with his panic attacks and past trauma. He's not alone in his initial skepticism — mental health problems, and services designed to address them, still come with a lot of stigma. By learning to embrace his therapy sessions with Dr. Sharon, and opening up about his struggles, Ted sets an example for all of us.
It's okay not to be perfect. The show is full of imperfect characters. They're jealous, vindictive, and grumpy. They make questionable decisions that hurt the people they love. They are, in Ted's words, a "work in prog-mess". But they're trying — and at least in Ted Lasso's world, that's enough.
Is Ted Lasso going to miraculously solve the mental health crisis in this country? Sadly, no. Conditions like anxiety, depression, and panic disorders (and the issues that cause them) are very real, and a TV show isn't going to change that. But the way mental health issues are portrayed in the media matters, and it's nice to see a show do this realistically, accessibly, and with kindness. And maybe, just maybe, watching Ted Lasso can make some of us feel just a little less alone.
To close with the words of our protagonist: "There is something worse out there than being sad, and that is being alone and being sad. Ain't nobody in this room alone. Let's be sad now. Let's be sad together."
The bottom line: We're long overdue in terms of normalizing talking about mental health. Popular TV shows like Ted Lasso — with realistic and empathetic depictions of mental health issues — can really help.
---
Tweet about it: Ted Lasso brings the feelgood vibes — and a few lessons on talking about #MentalHealth. @CommunicateHlth is here for it: https://bit.ly/3qXgfEi #HealthComm
Browse recent posts