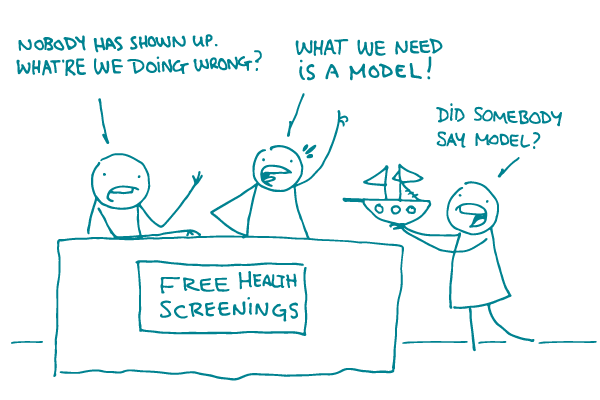 We all know change isn't easy. So when we want our audiences to change their health behaviors, we can't rely solely on plain language and human-centered design — we also have to get inside their heads.
Here at We ❤ Health Literacy Headquarters, we often turn to trusted theoretical models to help us understand how and why people change. And today, we're talking about one of our favorites: the Health Belief Model.
Over 50 years ago, social psychologists wanted to find out why people weren't participating in programs to prevent or screen for disease. After all, these programs were in everyone's best interest, right? The Health Belief Model was born from this investigation. It explains the desires and beliefs that make people take action to prevent, screen for, and control disease.
The gist of the model is that a person's behavior depends on their perceived benefits and barriers (also known as a cost-benefit analysis). Knowing these perceptions can help us anticipate how people will respond to recommended health behaviors.
To make your content more effective, try helping your readers answer these questions — all based on elements of the Health Belief Model:
What's my chance of getting sick?
How serious is the potential health problem?
What's in it for me if I change?
What are the costs of changing (like an insurance co-pay or the cost of face masks)?
Can I actually do the behavior?
What will help me remember to do it?
If your content answers these questions, you'll give your readers the understanding, tools, and confidence they need to make positive, healthy changes.
The bottom line: If you want readers to change their behavior, make sure your health content explains the benefits and barriers to change.
Tweet about it: How can #PublicHealth and #HealthComm professionals use the Health Belief Model to promote behavior changes, like wearing masks during #COVID19? @CommunicateHlth explains: https://bit.ly/3fj30lz
Browse recent posts