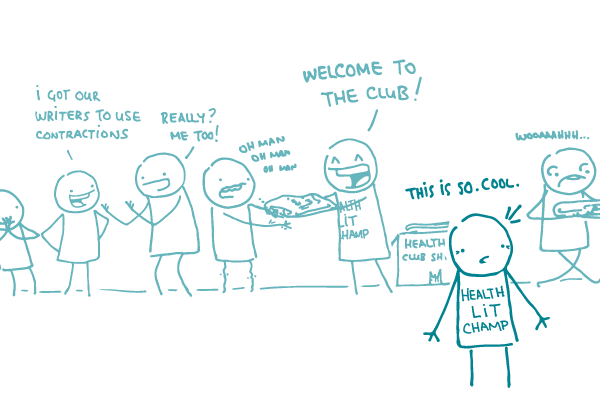 It's abundantly clear at this point, dear readers, that the reason we get along so well is that we have a lot in common. We're all a bunch of health literacy lovers with passionate feelings about things like white space, plain language, and user testing. In short, we're the coolest.
Unfortunately, not everyone shares our commitment to making health information easier to understand. And the reality is that even your own organization might be stuck in the Dark Ages (and in the Dark Ages, health literacy wasn't a thing).
Well, grab a torch because it's time for you to lead your colleagues into the light. Here are some tips you can use to advocate for a health literate organization.
Give the facts.
Explain how health literacy affects us all: 9 in 10 people have limited health literacy, which means they struggle to find, understand, and use health information. And research shows that everyone — not just people with limited health literacy — benefits from health content that's clear and easy to use.
Dispel the "plain language is dumbing down" myth.
If we had a nickel for every time we heard this one, we'd be kajillionaires (and we'd use it to run as many focus groups as our hearts desire)!
Plain language does not mean dumbing down your content. It means thinking about your readers, telling them only what they need to know, and using simple language to communicate your message.
Make it personal.
Health information is powerful — it can make us feel scared and confused or informed and empowered.
Encourage your coworkers to think about their loved ones and how they might feel reading your materials. Would they want their grandmother to get a fact sheet peppered with impenetrable jargon? How would they describe the issue in a way that would instead put her at ease and help her take action?
Explain the return on investment.
Yeah, yeah, readable health materials help consumers — but what about the big guy? The truth is that health literacy benefits organizations, too. If you distribute clear information, your audiences will be primed to:
Get the message without needing to call or email for clarification, which can save your company time and money
Follow through on the actions you want them to take, like paying their bill or taking their medicine as prescribed
Feel satisfied with your service, which can translate into greater loyalty
Share tools.
Like many of us, your colleagues may have learned early on that good writing is formal writing — or that there's no significant difference between a website that's user-friendly and one that isn't. So give your colleagues a hand by sharing tools they can use on the job. Here are a few of our favorites:
Start small.
Begin with small steps — like getting folks to use contractions when they write or encouraging them to collect a few audience insights before developing a product. Even these small wins can have a big impact on your work.
Who knows? Before long your colleagues may want to join the We ❤︎ Health Literacy family (and we'd really ❤︎ that).
The bottom line: Advocate for health literacy within your organization — it'll be a win for your audiences and a win for your company, too.
Browse recent posts