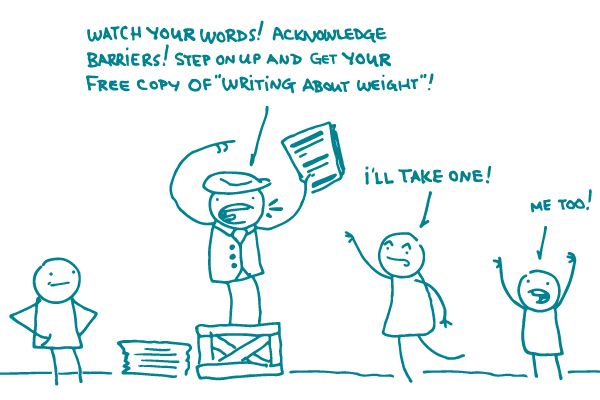 It's probably not news to you that the United States has high rates of obesity, and that the public health community has identified the issue as a top priority. Obesity is something that health communicators often need to write about — and it can be a tough subject to tackle.
There's strong evidence that overweight and obesity are correlated with a host of health conditions, including high blood pressure, type 2 diabetes, depression, and arthritis. But the fact is that improving health outcomes isn't as simple as telling people to lose weight. People with obesity have likely been told to lose weight over and over again, and many have tried and failed to do so.
So how can you write about weight in a way that's actionable, compassionate, and effective? We've shared general advice for writing about sensitive topics before, but today we're adding a few weight-specific tips:
Watch your words. Use person-first language and avoid stigmatizing terms like "morbidly obese." Remember, no one is their disease. Consider writing about people who have overweight or obesity rather than people who are overweight.
Skip the value judgments. Try not to reinforce elements of unhealthy dieting culture, like talking about "good" and "bad" foods or "guilt-free" substitutions.
Acknowledge barriers that people may face, like issues with access to healthy foods and limited opportunities for safe, affordable physical activity.
Use images your audience can relate to. Ditch the stick-thin models and show people of all sizes engaging in healthy behaviors.
Focus on specific steps people can take — like eating more vegetables or getting more physical activity — that can improve health regardless of whether they result in weight loss.
And keep in mind, dear readers, that these tips aren't just for consumer materials. Doctors often have their own biases about weight, and that can translate to worse health outcomes for people who have overweight or obesity — even if their health problem isn't related to weight at all.
By writing in a positive, non-judgmental way, health communicators can model respect and help make sure biases don't get in the way of good health care. And we really ❤︎ that.
The bottom line: When writing about weight, there's a lot you can do to create respectful, empowering health messages.
Browse recent posts