Translating environmental health information to keep communities safe
Centers for Disease Control and Prevention, National Center for Environmental Health/Agency for Toxic Substances and Disease Registry
Whether it's air pollution, unsafe drinking water, or harmful chemicals in the soil, environmental dangers can be hard to see. And they can be even harder to understand.
Helping people understand environmental health is a priority for the Centers for Disease Control and Prevention (CDC) National Center for Environmental Health (NCEH)/Agency for Toxic Substances and Disease Registry (ATSDR). That's why NCEH/ATSDR teamed up with CommunicateHealth. NCEH/ATSDR is on the cutting edge of complex risk communication, and together we've been communicating clearly about tricky environmental health topics for almost a decade.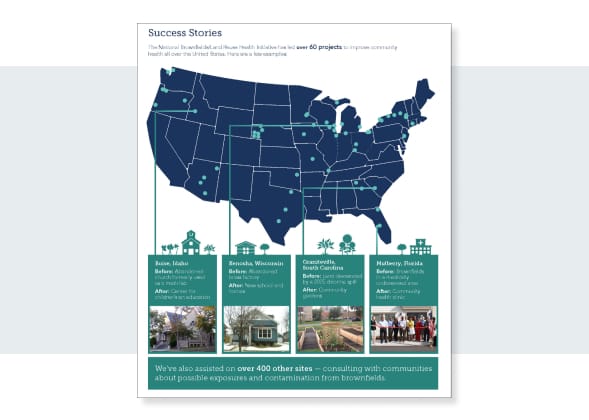 Our approach
In our work with NCEH/ATSDR, we start by doing research with end users. We find out what they know, what they don't, and how we can get them the information they need. Then we take what we learned and craft clear and compelling messages and materials — without resorting to jargon and technical terms.
Impact
For nearly 10 years, we've found creative and effective ways to teach people how their environment can harm their health — and what they can do about it.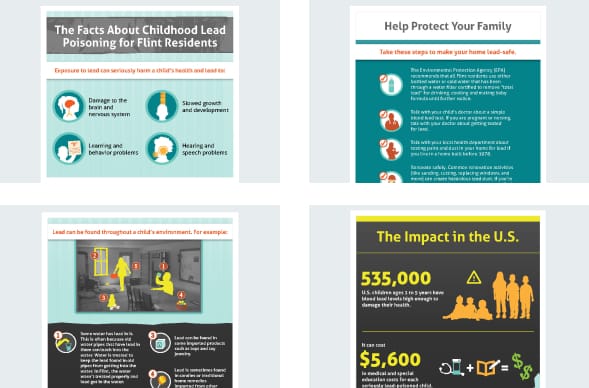 Translated critical but complex information about lead poisoning in Flint, Michigan, into plain language
By making strategic plain language edits to existing content and designing actionable materials to help people respond to the lead poisoning crisis, we helped NCEH/ATSDR provide trusted, timely information during a public health crisis.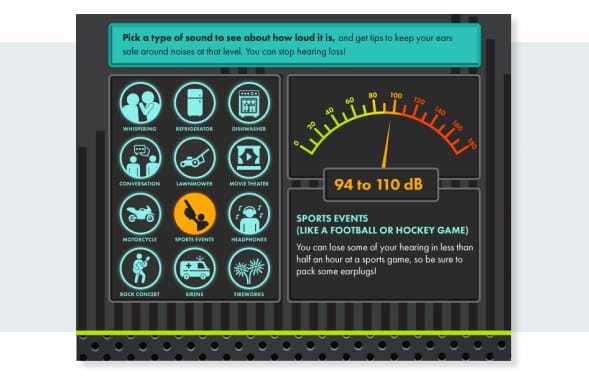 Created a suite of engaging, tailored materials to help young people protect their hearing
Many teens are exposed to loud noises and music that can damage their hearing, and teens can be a difficult audience to reach. So we chose engaging formats — like an interactive infographic and eye-catching social media graphics — and created a bold look and feel. We also crafted conversational messages that resonate with teens. Then we used innovative communication channels to get the messages out.

We used a Thunderclap social media campaign to raise awareness about noise-induced hearing loss and amplify key messages during World Hearing Day. The campaign reached 2.4 million people in more than 100 cities in just over 2 weeks.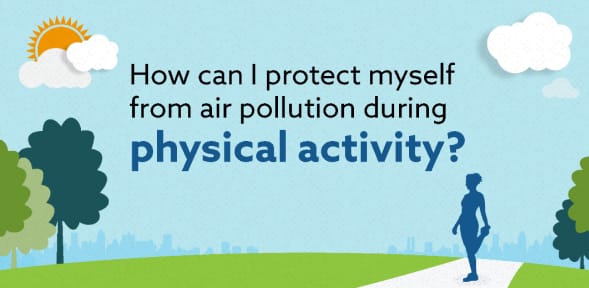 Investigated public understanding of air pollution risk
We conducted 6 focus groups about air pollution with 44 participants — people with asthma, heart disease, or diabetes and caregivers of kids with these conditions. Our research revealed valuable insights into what people know about air pollution risk and where they get information about air quality. We used what we learned to give NCEH guidance to better reach at-risk consumers with behavioral recommendations.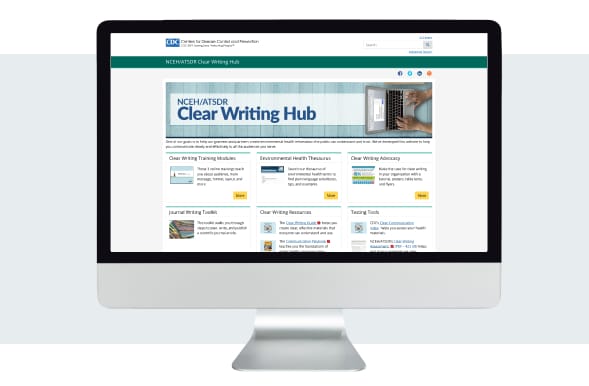 Built CDC's capacity to communicate effectively about environmental health
For the past 5 years, CommunicateHealth has worked to expand capacity among NCEH/ATSDR staff and grantees to effectively reach target audiences with important environmental health information. We created an online hub of clear communication and plain language training materials — including 6 interactive e-learning modules, a plain language thesaurus of over 100 environmental health terms, and much more.
We developed the Toolkit for Health Communicators to give CDC staff clear and actionable guidance for communicating about environmental health.