Communicating clearly about COVID-19
Ad Council, Centers for Disease Control and Prevention, Association of Immunization Managers, BronxCare Health System, and more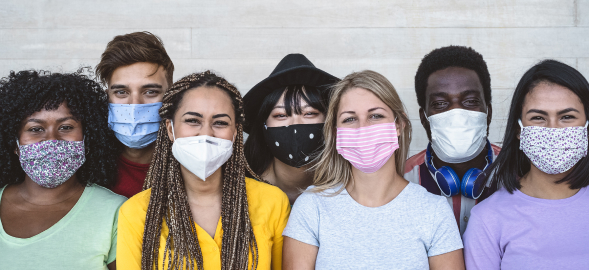 The COVID-19 pandemic is one of the greatest public health challenges of the past century — and health communicators have been scrambling to deliver clear, trustworthy messages in a complex and rapidly evolving information landscape.
As a mission-based company, CommunicateHealth is committed to doing our part. We've partnered with new and existing clients on a wide variety of COVID-19 communication products and campaigns, with a focus on ensuring that crucial information is accessible to the people who are at highest risk.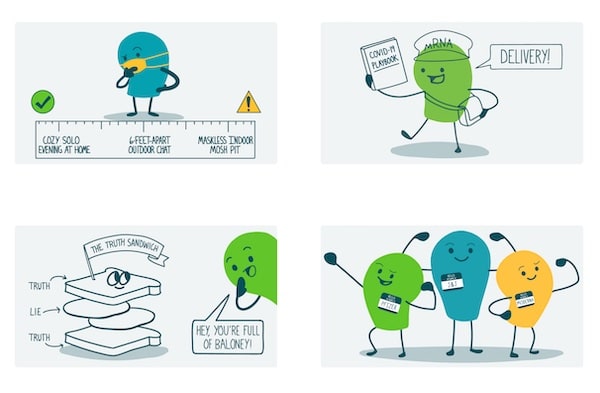 Our approach
In a public health crisis, communicators need to work fast. Our iterative human-centered design process helps us develop health communication materials and campaigns at lightning speed — without cutting any corners. Our tight-knit interdisciplinary teams work hard and work smart to deliver the right messages to the right audiences at the right times.
As health communication thought leaders, we're also committed to sharing our expertise with others in the field. We've presented numerous webinars on topics like addressing vaccine hesitancy and communicating in plain language during the pandemic. And since March 2020, we've published dozens of posts for health communicators via our We ❤️ Health Literacy weekly email series on COVID-19 topics ranging from social distancing and handwashing to mRNA vaccines and effective ways to combat misinformation.
Impact
Our engaging, empathetic COVID-19 resources empower people to keep themselves, their families, and their communities healthy.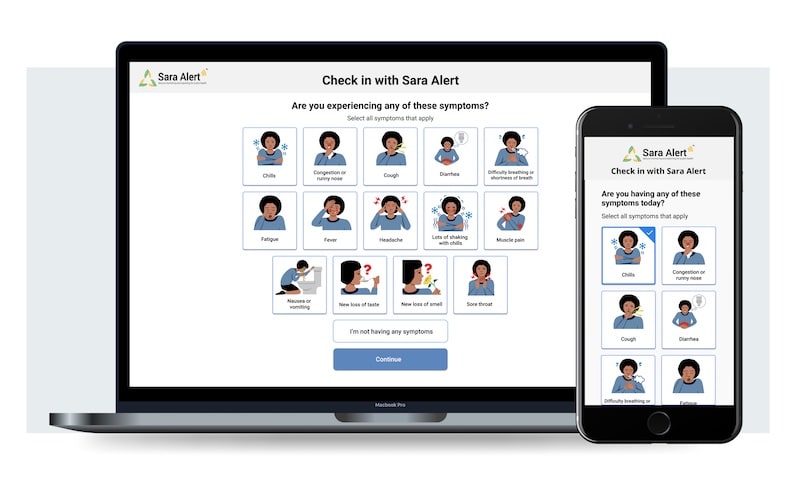 Developed pictograms to support accurate COVID-19 symptom reporting
We worked with the MITRE Corporation to improve Sara Alert, a system that allows people who have or may have COVID-19 to quickly and easily report their symptoms to their state or local health department each day. We created plain language content, audited the Sara Alert user experience, and developed pictograms for each COVID-19 symptom. Then we tested Sara Alert and the pictograms with people who have limited literacy skills or limited English proficiency — ensuring that all users can accurately report their COVID-19 symptoms and helping health departments work more efficiently.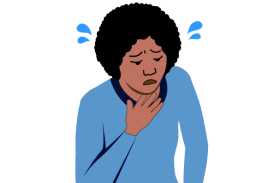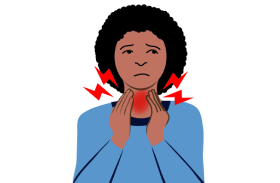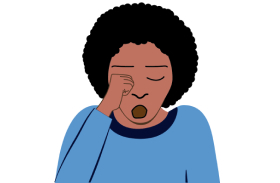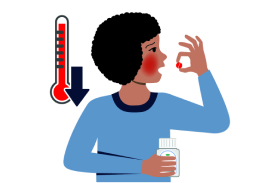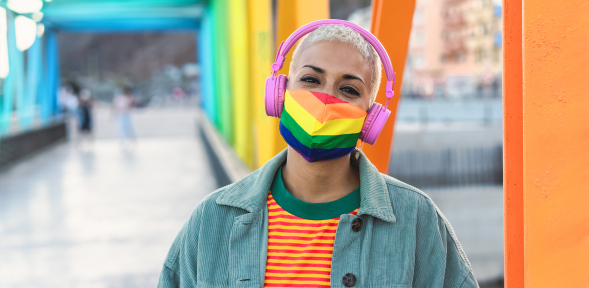 Leveraged behavior change theories to inform a nationwide mask-wearing campaign
In collaboration with the Ad Council, we created strategic messages for a campaign to combat pandemic fatigue and promote mask use. Synthesizing multiple rounds of consumer research, we developed and refined a variety of message options to identify the most compelling appeals — all in less than a month. The final messages emphasize that by continuing to wear masks, we can help protect ourselves and our communities.
When it comes to inspiring health behavior change, traditional marketing strategies aren't enough — and that's why the Ad Council turned to CommunicateHealth. Based on frameworks like the Theory of Planned Behavior, we created message concepts to motivate Americans to continue following expert guidance for wearing masks.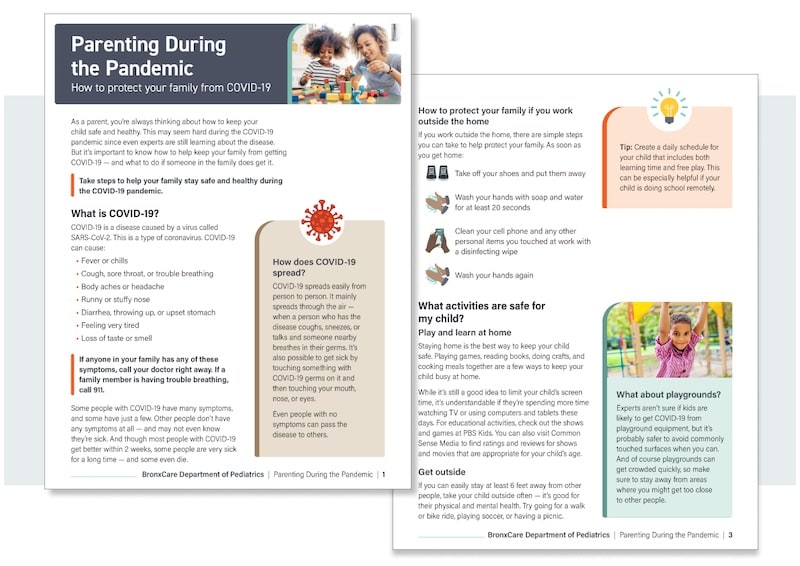 Empowered parents in the Bronx to protect their families from COVID-19
We partnered with BronxCare Health System to create a fact sheet to help parents keep their families safe and healthy during the pandemic. Using clear, simple language, the fact sheet provides actionable guidance to help families stay safe from COVID-19 — as well as steps to take if someone in the family does get sick. Original icons and photos showing families engaged in safe activities add visual appeal and bring a sense of optimism and encouragement to a serious subject.
Created easy-to-understand videos and social stories for adults with intellectual disabilities
People with disabilities have been disproportionately impacted by the COVID-19 pandemic. And we know that people with intellectual disabilities and extreme low literacy face additional barriers to accessing information about how to stay safe.
In collaboration with the Centers for Disease Control and Prevention (CDC) and RTI International, we created a suite of highly visual videos, social stories, posters, and interactive materials to communicate about key COVID-19 preventive behaviors like wearing a mask, social distancing, and getting vaccinated.
Based on feedback from multiple rounds of testing with adults who have intellectual disabilities and their caregivers, we refined our approach — and contributed to the development of a CDC Clear Communication Index module with tailored best practices to better reach people with intellectual disabilities and extreme low literacy.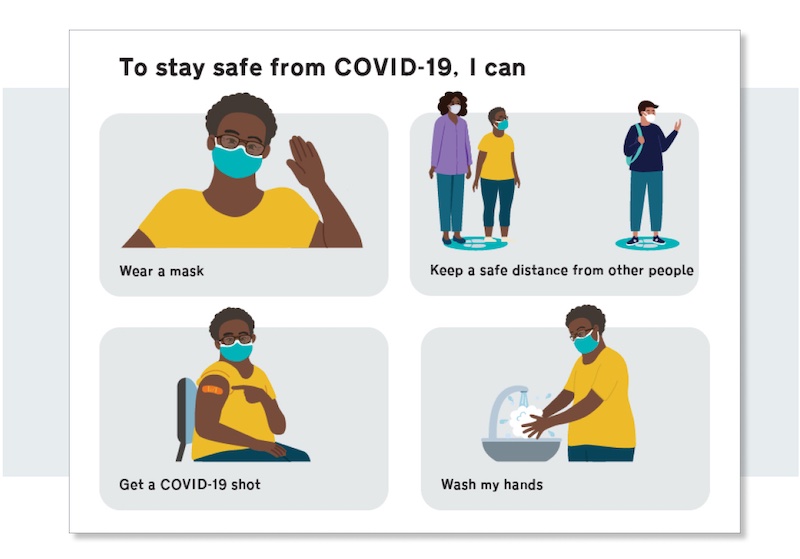 Using a human-centered design approach, we iteratively revised our materials to make sure that they resonated with adults with intellectual disabilities — and that they clearly conveyed key messages about how to stay safe from COVID-19.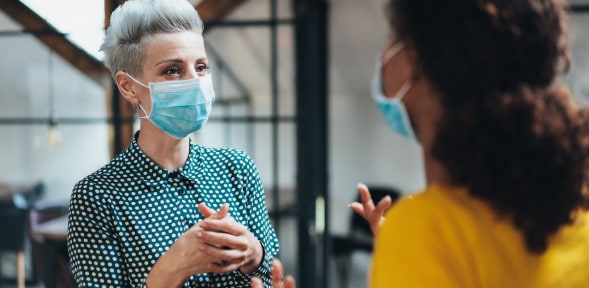 Developed talking points for immunization managers to explain mRNA vaccines
When the Pfizer and Moderna mRNA COVID-19 vaccines were approved, health communicators knew it was vital to help people understand this new type of vaccine. On behalf of the Association of Immunization Managers, CommunicateHealth developed a set of plain language talking points to help immunization managers explain the vaccine development process, allay safety concerns, and motivate people to get vaccinated.
Supported people with COVID-19 in exploring their treatment options
As the first type of treatment available for people recently diagnosed with COVID-19, antibody treatments have the potential to prevent hospitalizations and deaths in people at high risk of serious illness from COVID-19. In collaboration with Eli Lilly and Company, we created a decision aid to help people with COVID-19 figure out whether they want to get an antibody treatment. The decision aid features clear plain language explanations, compelling and relatable illustrations, and interactive sections that help people evaluate the pros and cons of antibody treatment.