Bringing a human touch to health information technology
Office of the National Coordinator for Health Information Technology
Innovative health information technology (IT) systems have the potential to transform health care. By seamlessly connecting patients, providers, and health information, tools like patient portals can empower people to take control of their health. But for many health care providers and patients, health IT systems fall short.
Consumers often struggle to access their own health records, and understanding the complex information included in those records creates an even larger roadblock. We partnered with the Office of the National Coordinator for Health Information Technology (ONC) to bridge this information gap.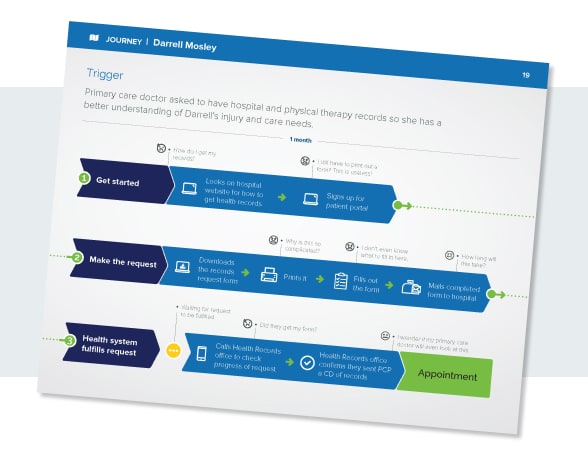 Our approach
To understand the obstacles that patients face when navigating health information systems, we created a journey map — tracing the process of requesting, accessing, and using health records. Then we got to work crafting recommendations that address users' information needs.
Finally, we turned those recommendations into digital guides (we called them "playbooks" to reflect their iterative nature) for both professionals and patients. These interactive guides present real-world solutions and hacks from innovative health care providers across the country.
Impact
To bridge the health information gap, we created a suite of resources to help professionals build user-friendly health IT solutions and help patients access their health records.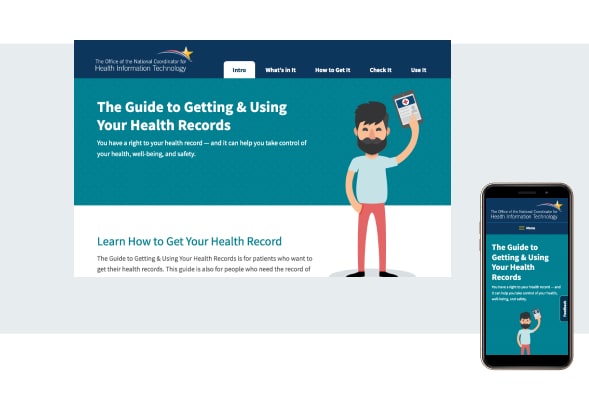 Created a guide to help consumers access their health record
The Guide to Getting and Using Your Health Records walks patients through the process of requesting health records — but it doesn't stop there. This interactive resource also educates patients about their rights under HIPAA and offers tips on how to use, share, and manage health information. Short quizzes on relevant topics, like how to choose a health app, help users apply what they've learned.
Your health record can help you understand, advocate for, and manage your own health care."

— Guide to Getting and Using Your Health Records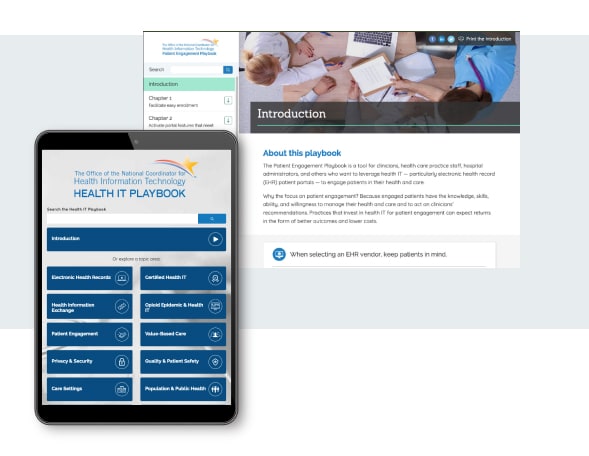 Designed interactive playbooks to educate professionals about health IT best practices
We created 2 playbooks to help professionals create better health IT systems — and use these innovative tools to connect with their patients.
The Health IT Playbook outlines best practices to help professionals create more user-friendly information systems. Grounded in user experience and health literacy best practices, this playbook offers practical tips on timely topics — like designing health IT solutions to combat the opioid epidemic.
At CommunicateHealth, we know that creating effective tools is only the first step in promoting health literacy. Engaging with the people who use those tools is just as important. That's why we created the Patient Engagement Playbook. This guide illustrates how to use health IT systems like online patient portals to build stronger relationships between patients and providers.
Engaged patients have the knowledge, skills, ability, and willingness to manage their health and care and to act on clinicians' recommendations."

— Patient Engagement Playbook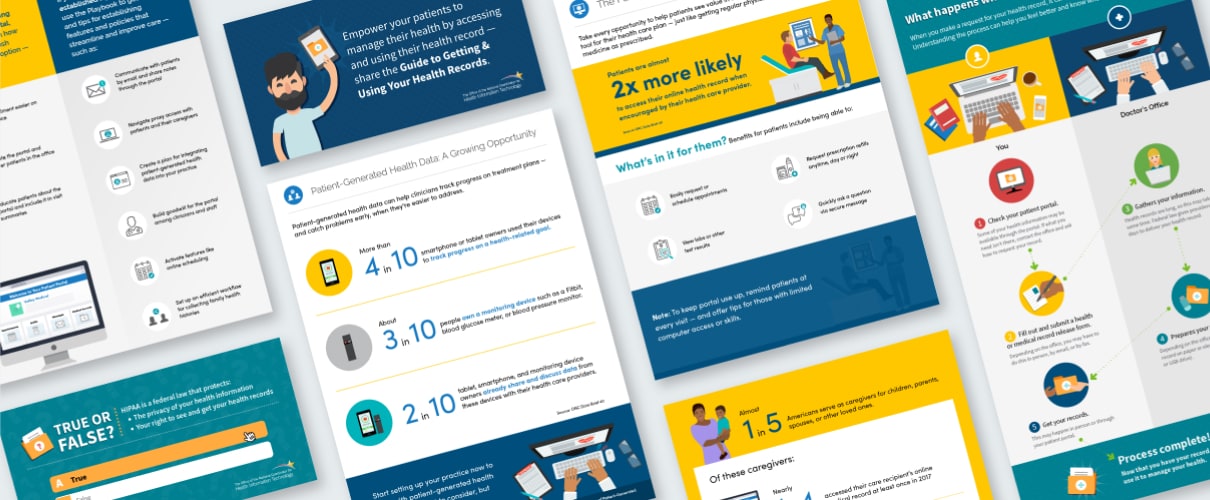 I'm so glad ONC worked with [CommunicateHealth] to get this done. The playbook is very clear and dynamic — and just how I was hoping it would turn out. Great work!"

— ONC Team Member