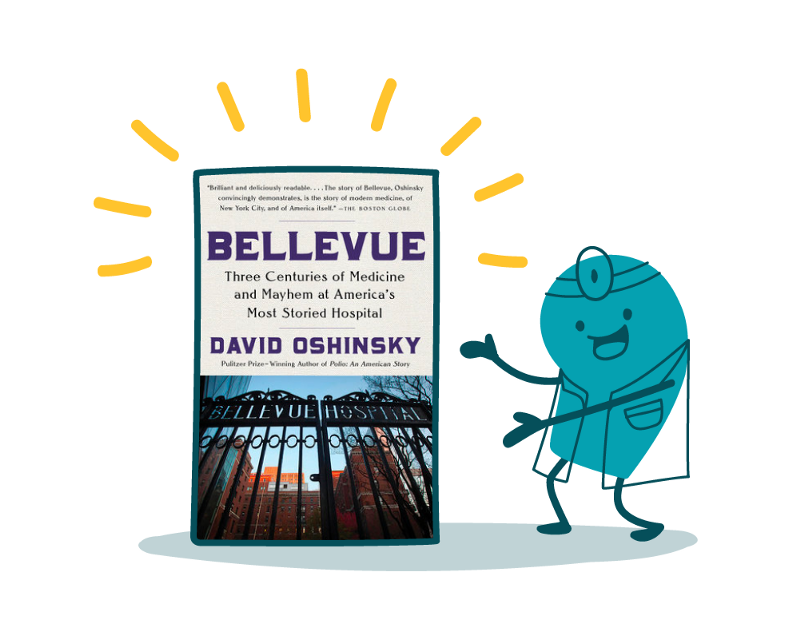 We don't know about you, dear readers, but in this time of social distancing, we've been doing a whole lot of reading! So in this week's edition of the We ❤ Health Literacy Book Club, we wanted to draw your attention to an absolute must-read for health nerds like us.
In Bellevue: Three Centuries of Medicine and Mayhem at America's Most Storied Hospital, David Oshinsky tells the story of the oldest — and most notorious — public hospital in the country. This book has it all. Public health! Antiquated medical techniques! The city that never sleeps!
It's also chock-full of something that's top of mind as the COVID-19 pandemic drags on (and on and on): disease outbreaks. If you're like us, you might find it calming to read about the many outbreaks (cholera, yellow fever, TB, typhus) that helped shape the hospital's history — and that do not include coronavirus. Seems like the one place you won't hear about COVID-19 these days is in a book that covers plagues from the past.
Bellevue touches on so much that it's hard to choose the elevator pitch. Of course you'll learn all about the history of the hospital itself — but that's not all. In this historical page-turner, you'll also find out:
Why President Garfield might have survived that pesky assassination if he had gotten shot a liiiittle bit later
What it was like to travel to the hospital in a horse-drawn ambulance
How the groundbreaking report Sanitary Conditions of the City got people thinking about hygiene and sanitation before public health was really a thing
What the AIDS crisis looked like to the doctors who treated the first wave of New York City patients (for more on this topic, check out our past Book Club picks And the Band Played On and Voices in the Band)
Why you had to watch out for… dun dun dun… Prohibition poison liquor!
It's also striking that this history book is full of challenges we're still facing today, including the devastating health effects of racism and discrimination, the constant tension between public and private health care, and the consequences of an inadequate mental health care system. In this way, it can feel discouraging — how are we still grappling with so many of the same issues?
But if we return to the COVID-19 lens, things look brighter. The diseases behind the outbreaks in Bellevue's pages all have one thing in common: they are now under control — and we have measures to effectively treat and prevent them. Let's hope we'll be saying the same of our current viral opponent before too long.
The bottom line: David Oshinsky's Bellevue is a must-read for public health nerds everywhere.
Tweet about it: Need a summer book rec? Look no further than David Oshinsky's Bellevue — it's a true #PublicHealth page-turner, says @CommunicateHlth's Book Club: https://bit.ly/30HvEry
Browse recent posts