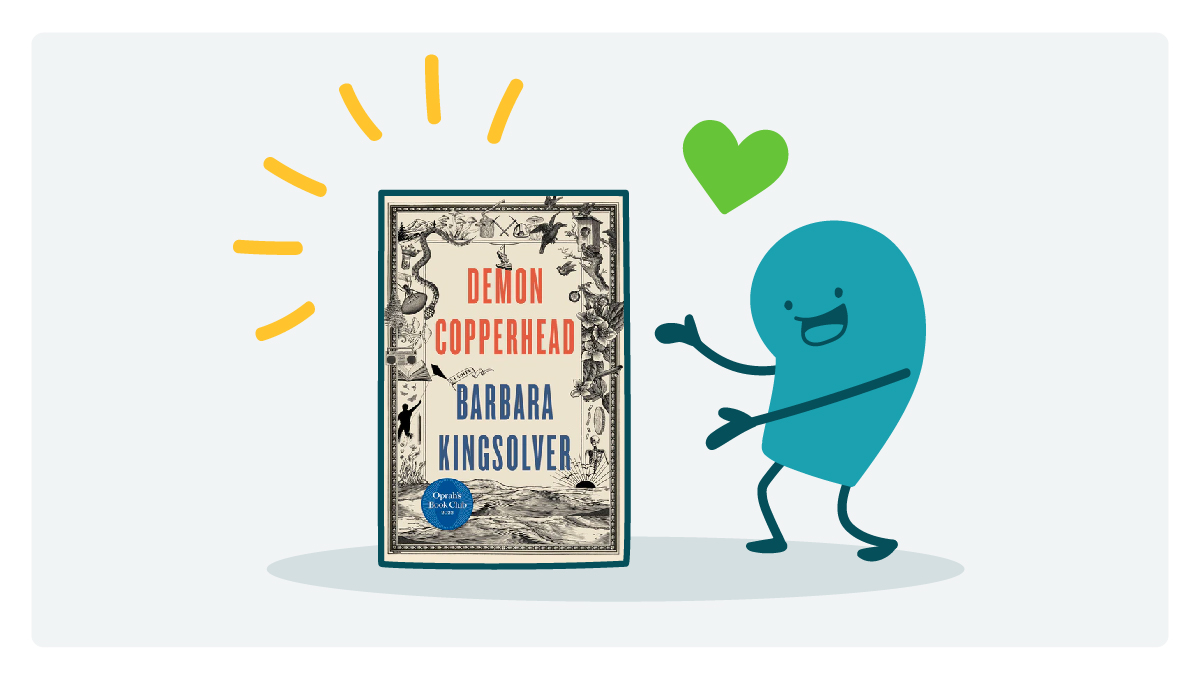 In today's edition of the We ❤️ Health Literacy Book Club, we're highlighting a novel that we absolutely can't stop thinking about: Demon Copperhead by Barbara Kingsolver. Set in rural Appalachia during the early days of the opioid epidemic, it's a critique on the damaging effects of institutional poverty and a pharmaceutical company's aggressive push to sell a new painkiller that it claimed wasn't addictive.
Demon Copperhead is actually a modern retelling of Charles Dickens' David Copperfield. But rather than an English boy born in the mid-19th century, the eponymous protagonist in Demon was born in the mountains of Virginia in the 1980s to a teenage mother living on her own and struggling with addiction. From the moment Demon enters the world, addiction is an overarching theme in his life, affecting nearly everyone he knows in one way or another.
The book is a heart-wrenching story told in Demon's own voice — and you'd be hard-pressed not to love him. He's full of sharp and often hilarious one-liners ("People love to believe in danger, as long as it's you in harm's way, and them saying bless your heart"), and he's wise and insightful beyond his years ("The wonder is that you could start life with nothing, end with nothing, and lose so much in between.")
One of our favorite parts about the book is how Kingsolver, herself from Appalachia, writes with unmistakable empathy — something we ❤️ to see as health communicators. Kingsolver builds connection with her characters, in large part by laying bare the many systemic barriers they're up against — generational poverty, struggling schools, a broken foster care system, and limited access to high-quality health care among them.
She also calls out — and continually counteracts — a damaging stereotype (which is of course a key part of empathetic communication!). As Demon says: "This is what I would say if I could, to all the smart people of the world with their dumb hillbilly jokes. …We can actually hear you."
Demon isn't an easy read — it's full of tragedy and loss and heartbreak. And of course it's about a very real crisis that's far from over. But it's an important reminder of how the opioid crisis came to be and how profoundly it has harmed a population that many are quick to overlook. Kingsolver ends her author's note by directly addressing real-life kids like Demon:
"For the kids who wake up hungry in those dark places every day, who've lost their families to poverty and pain pills, whose caseworkers keep losing their files, who feel invisible, or wish they were: this book is for you."
The bottom line: Demon Copperhead is a heart-wrenching novel about the early days of the opioid epidemic in rural Appalachia. The subject matter is tough, but the author writes with empathy to build connection with her characters — and leave a lasting impression.
---
Tweet about it: The latest installment of @CommunicateHlth's We ❤️ Health Literacy Book Club is all about Barbara Kingsolver's #DemonCopperhead. Check it out, and be sure to pick up this super powerful read: https://bit.ly/42ny0tR
Browse recent posts