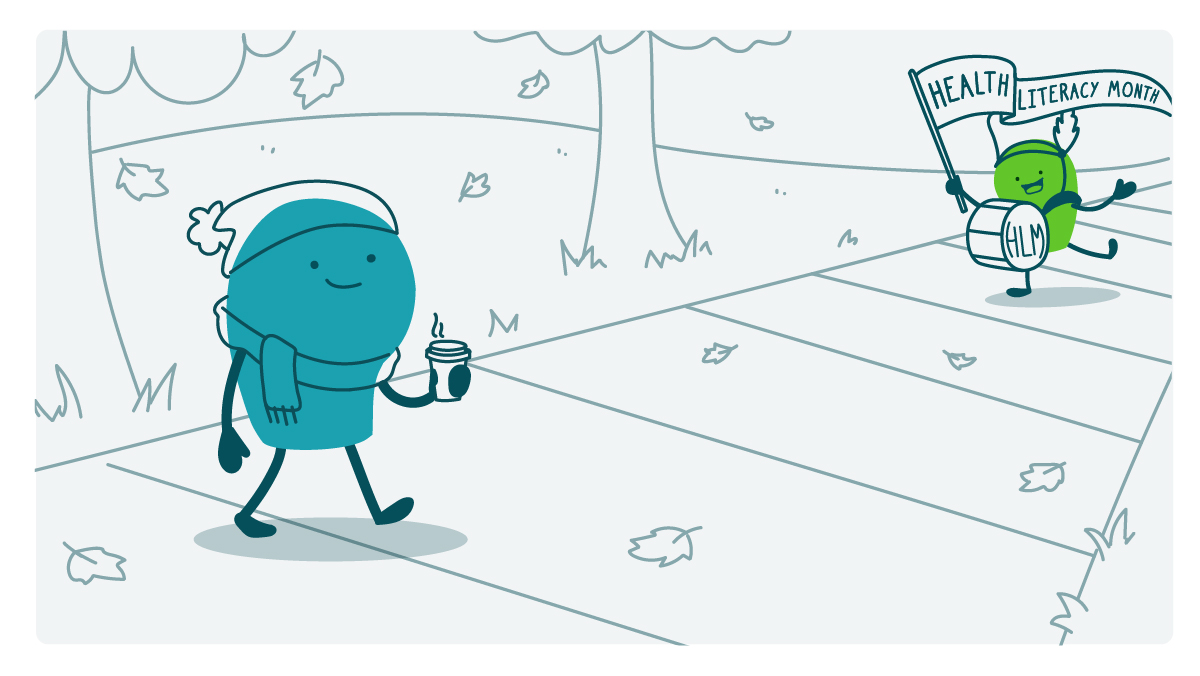 Well, dear readers, it appears that fall has arrived — somehow. And if you're anything like us, as you sip your pumpkin spice something-or-other on a walk in the crisp autumn air while sporting your coziest sweater, you simply can't stop thinking about the very exciting event that's just around the corner… Health Literacy Month!
Yes, every October we come together with other advocates (that's you) to celebrate the importance of health literacy — and to get others involved in our shared cause. And what a time to be a health literacy advocate! As you've no doubt noticed, the COVID-19 pandemic has really put health communication on the proverbial map. (We don't know about you, but we've had much more success explaining our jobs than we did pre-COVID.)
For starters, the pandemic demonstrated on a grand scale that health comm — and therefore health literacy — can be a matter of life or death. It also laid bare the tremendous impact of social determinants of health — particularly those rooted in systemic racism and discrimination. This led high-profile national public health institutions to declare en masse that racism is a public health crisis and drew mainstream attention to conversations like this one on naming racism (not race) as a disease risk factor.
Essentially, the public health community has turned up the volume on explicit acknowledgement of how inequitable systems make it more likely that people in certain groups — especially communities of color — will get sick and stay sick.
Similar convos are happening in the health literacy space, with more and more folks considering the implications of how we've historically defined health literacy — as the ability to access, understand, and use health information. While it's not wrong, taken at face value this definition does leave out the role of systems and organizations, focusing only on an individual's skills.
To be clear, health literacy advocates have pretty much always known that the onus of making sure people can access, understand, and use health information is on us — you know, the people and organizations who create and provide that information. But it's really encouraging to see more widespread acknowledgment of this very important truth — along with the shifts we're seeing more broadly in public health.
Anyway, you might say we're just a little bit extra excited about Health Literacy Month this year — it continues to feel like a profound time to be in this field. And next week we'll be bringing you some ideas for celebrating Health Literacy Month. Stay tuned!
The bottom line: Health Literacy Month is almost here, and we're reflecting on how things are evolving in the wonderful world of health literacy.
---
Tweet about it: Who else is excited for #HealthLiteracyMonth coming up in October? As we gear up to celebrate, @CommunicateHlth is reflecting on the evolving #HealthLiteracy conversation: https://bit.ly/3rltb3L  #HealthComm #PublicHealth
Browse recent posts