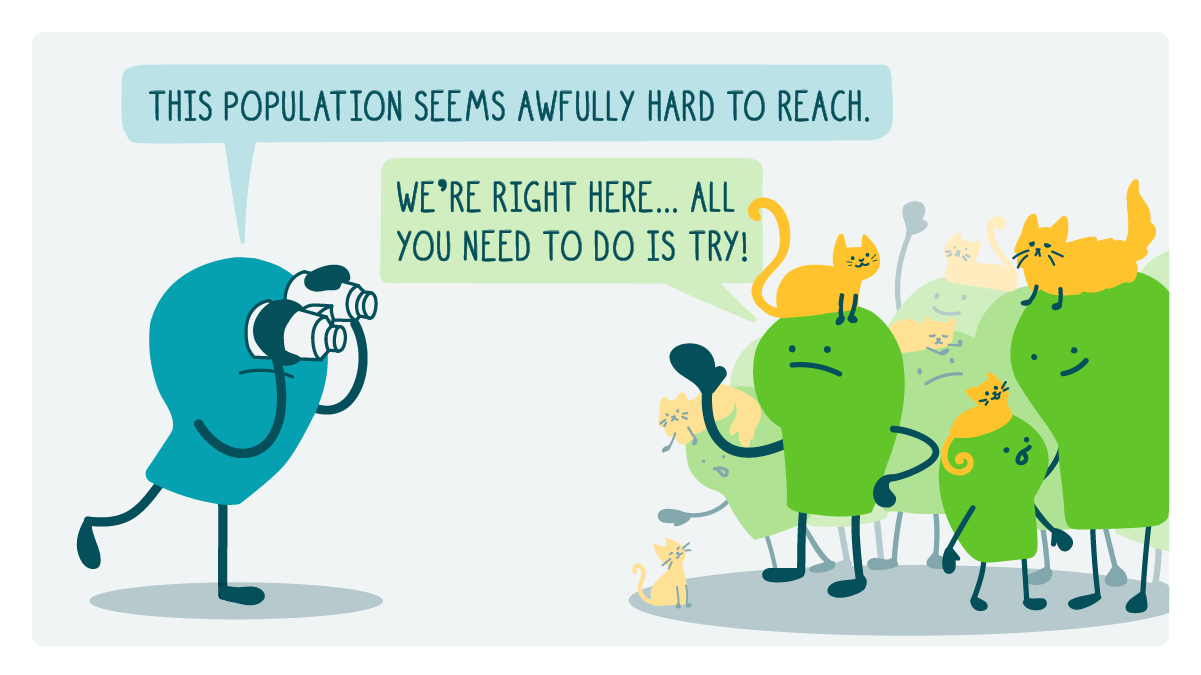 Here at We ❤️ Health Literacy Headquarters, we've been thinking a lot lately about unintended consequences of common health comm terms like "target audience" and "vulnerable communities." And this week, we're tackling another health comm no-no: "hard-to-reach" populations.
What do we mean by "hard to reach"? Jay Bernhardt, dean of the Moody College of Communication at UT Austin, explained the problem with this term at this year's Health Communication Leadership Institute — he argued that "hard to reach" is an excuse for not putting in the work and the resources to successfully reach people. And we think this is spot-on. It's time we stop implying that the audience is at fault when health messaging fails to reach or connect — and start asking how we as communicators can do better.
Even if these problematic labels never appear in our consumer materials, using terms like "hard to reach" internally can set us up to expect failure when we're communicating with these populations — or perhaps to not even try. And when you expect to fail, you might eventually give up too soon. That's a sure way to make existing health disparities even worse.
So how do we avoid "hard to reach"? One option is to swap in an alternate term like "high priority" or "under-resourced" that keeps the responsibility centered on the systems and organizations that fail to prioritize these populations. In other words, you could describe the specific problems at hand more directly. For example, instead of "this campaign will target the hard-to-reach population of Black adults ages 65 and older," you could say "this campaign will prioritize Black adults ages 65 and older — a population that previous campaigns have largely failed to reach due to a lack of culturally relevant messaging and trusted messengers."
These language changes may seem insignificant, but they can help us hold ourselves accountable for finding solutions. And then the real work and progress can begin!
The bottom line: Let's stop calling populations "hard to reach" — and put in the work, time, and resources to successfully reach people instead!
Tweet about it: Why are some populations "hard to reach" in #PublicHealth? Because we're not putting in the work to reach them! @CommunicateHlth takes inspo from #HealthComm hero @jaybernhardt and explains why: https://bit.ly/3sup3OC #HealthLit
Browse recent posts