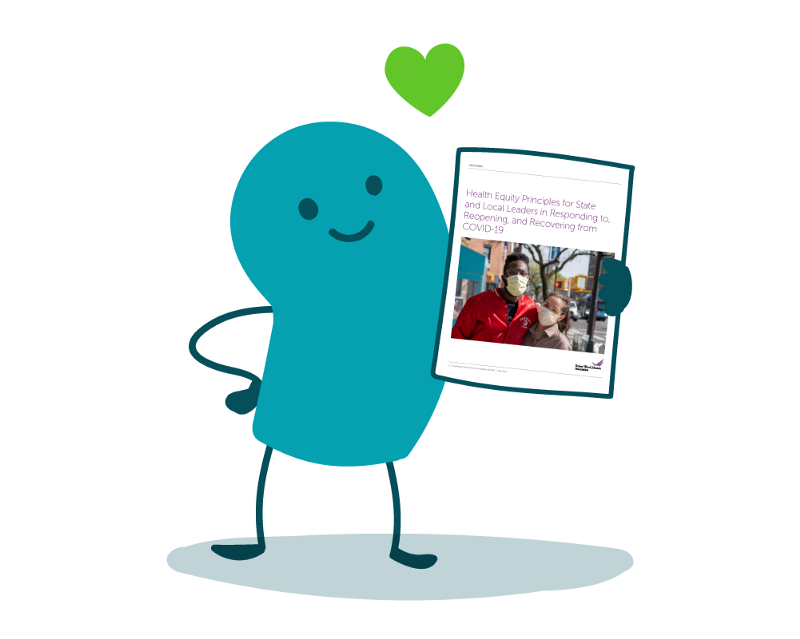 This week, dear readers, we want to draw your attention to a timely resource from the Robert Wood Johnson Foundation (RWJF): Health Equity Principles for State and Local Leaders in Responding to, Reopening and Recovering from COVID-19.
As we continue to reflect on COVID-19 and racism, it's not enough to simply acknowledge that these crises are interconnected. As health communicators, we need to promote pandemic response strategies that draw attention to the disproportionate burdens on Black and Brown communities and prioritize their health and well-being.
So what does an equitable pandemic response look like? Here are RWJF's 5 health equity principles:
Collect, analyze, and report data disaggregated by age, race, ethnicity, gender, disability, neighborhood, and other sociodemographic characteristics.
Include in decision-making the people most affected by health and economic challenges, and benchmark progress based on their outcomes.
Establish and empower teams dedicated to promoting racial equity in response and recovery efforts.
Proactively identify and address existing policy gaps while advocating for further federal support.
Invest in strengthening public health, health care, and social infrastructure to foster resilience.
Be sure to read more about these principles on RWJF's site!
The bottom line: As we respond to this pandemic, we need to unite around a shared vision to address the deep-rooted systemic problems of racism and health inequity in our country. Resources like RWJF's health equity principles are a good place to start.
Tweet about it: .@RWJF's principles can help us unite around a shared vision of an equitable response to #COVID19, says @CommunicateHlth: https://bit.ly/3dUZWMO #communicateCOVID
Browse recent posts