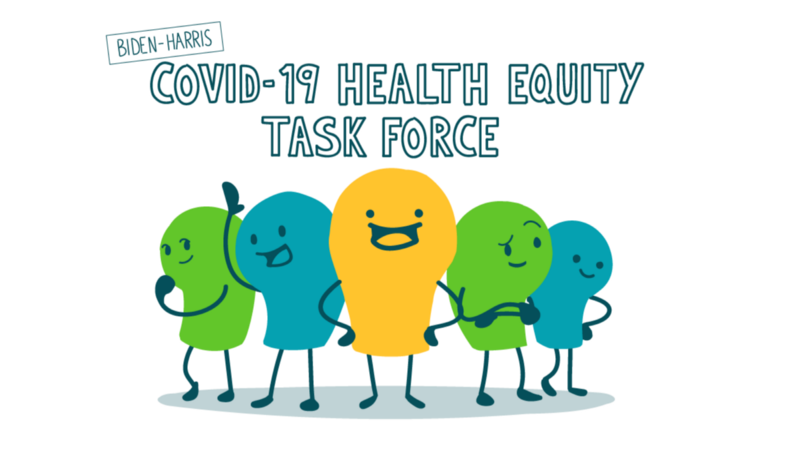 When the COVID-19 pandemic is finally over, there'll be no shortage of careful reflection and lessons learned for public health officials (and communicators!). But one major takeaway needs our attention right now: COVID is affecting people of color at wildly disproportionate rates.
Addressing this problem will require systems-level change — and that's why we were excited to hear about the new Biden-Harris COVID-19 Health Equity Task Force. Established by President Biden's Executive Order on Ensuring an Equitable Pandemic Response and Recovery, the Task Force will make recommendations to help address health inequities related to the COVID-19 pandemic — and prevent these inequities in the future.
(While the Task Force is brand new, it's getting off to an equitable start by sending COVID-19 vaccines directly to Federally Qualified Health Centers — safety net providers that treat underserved populations.)
Per the Executive Order, Task Force members will come from inside and outside the federal government, and will include people with lived experience of health inequity in their own communities — like the woman appointed to run it. Yep, the Task Force will be headed up by Dr. Marcella Nunez-Smith, an associate professor of internal medicine, public health, and management at Yale University — and we just ❤ her.
If you don't know much about Dr. Nunez-Smith, we'll give you an idea of where she's coming from in her own words (as quoted in the New York Times):
"Making sure communities hardest hit by the pandemic have access to safe, effective vaccines remains a priority. [But] what's needed to ensure equity in the recovery is not limited to health and health care. We have to have conversations about housing stability and food security and educational equity, and pathways to economic opportunities and promise."
The bottom line: Creating the Biden-Harris COVID-19 Health Equity Task Force is a step in the right direction — and we're excited to see where Dr. Nunez-Smith's leadership will take us.
Tweet about it: We've got a lot of work to do to address health inequities in the United States. This week, @CommunicateHlth chats about the new Biden-Harris #COVID19 Health Equity Task Force: https://bit.ly/2NnO3GY
Browse recent posts