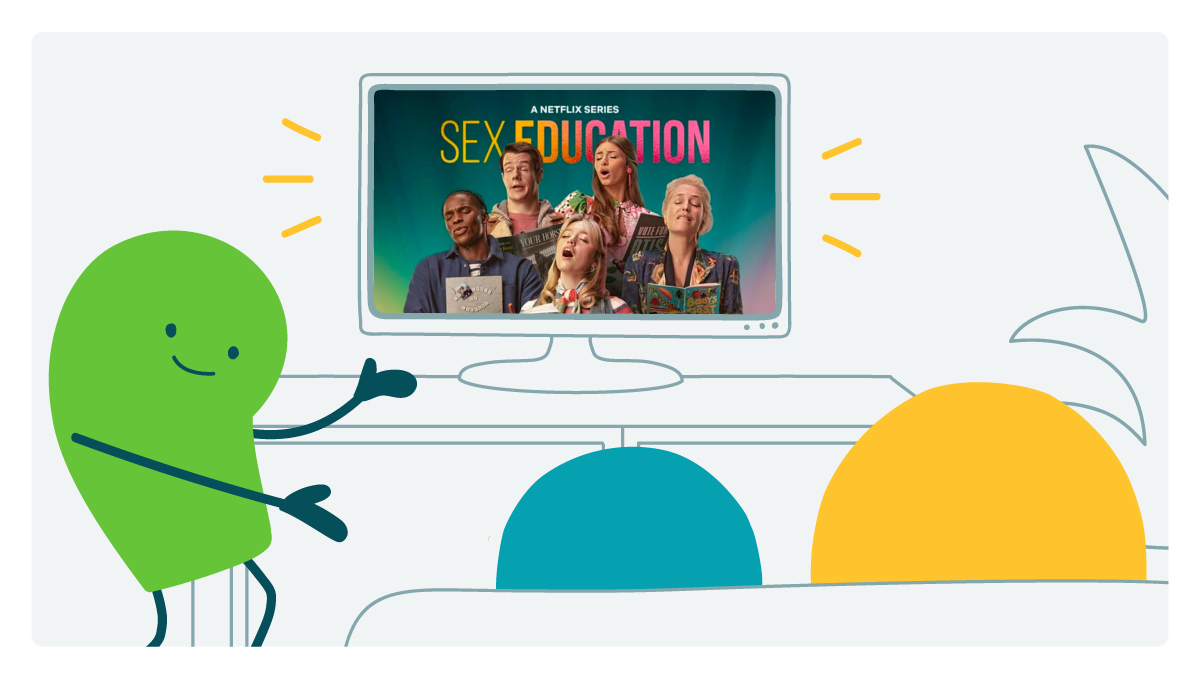 If you're like us, dear readers, your consumption of TV and movies increases around this time of year. Because what's better than a warm beverage, a cozy blanket, and a bingeable TV show? And that's why this week, we're bringing you a (somewhat overdue) recommendation for a show that you don't want to miss: Netflix's Sex Education.
The fourth and final season (or series for our friends in the UK) of this poignant and often hilarious show was released in September. It takes place in a small pastoral British town and follows an ensemble of teenagers (plus some of their corresponding adults) navigating school, family, friends, romance, and — of course — sex.
There's a lot to like about Sex Education, but let's start with something you might guess is top of mind for us: the show is basically an advocate for accurate, inclusive sexual health info but in the form of television! Otis, arguably the main character, learns the value of comprehensive sex ed from his sex educator mother (played by the unarguably brilliant Gillian Anderson). In the first season, Otis joins forces with edgy classmate and soon-to-be-love-interest Maeve to set up a sex ed "clinic" at his school where he talks STDs, tricky intimate relationship dynamics, how pleasure fits into sexual health, and everything in between. Things take off from there.
As mentioned, Sex Education certainly takes a comedic approach — but it also includes realistic portrayals of things that are far from funny: sexual assault, gender dysphoria, postpartum depression, disability, bullying, homophobia (internalized and not), addiction, class issues, and crises of faith to name just some. We ❤️ to see mainstream media take on these topics — many of which have traditionally been ignored entirely or represented via unrealistic and potentially harmful stereotypes. Note the intimacy scene between Isaac, who uses a wheelchair, and Maeve in season 3. We can't think of many — any? — comparable depictions.
We'll note that reviews of the last season have been mixed after almost universally glowing reactions to the first 3. Some critics have panned it as a parody of itself in the end — too unrealistic, too many new and underdeveloped characters whose sole purpose seems to be to represent a specific identity — essentially, too "on the nose." We'll let you decide what you think about that part.
For ours, we still enjoyed the vibrant, joyful, and inclusive wrap-up to this super enjoyable series that embraces tough and important topics with such spirit, charm, and care.
The bottom line: Watch Sex Education for, well, a lot of reasons. Its emphasis on the need for clear and inclusive sexual health information is a good start! 
---
Post about it on X: This week, @CommunicateHlth is chatting about Sex Education. If you haven't tuned in yet, the show has a lot going for it — starting with its emphasis on the need for clear, inclusive sexual health info. Read more: https://bit.ly/47IgFPu #HealthLiteracy